This morning is beautiful, with sunlight through clouds, and I can't capture the feeling in a picture.

There is a large covey of quail outside my door, running around as if they are on wheels, the rays of sunlight seem magical outside my dining room window, and last night was a big thunder and lightning storm with the first rain since leaving Taos.  I got up in the dark after midnight, the night sky lit by lightning,  to make sure all the car windows were closed, to stow my chair and footrest under the rig, and fold up my little side table to put it inside.  Cheyenne hates thunderstorms, even more than she hates rough wind and fireworks or gunfire, so she was nervous.  I've always loved the sound of rain pounding on the roof, especially a metal roof, so I stayed awake for a couple of hours to finish my Henning Mankell Wallander mystery.  I'm so glad I brought several of these books and a couple videos of the stories, they seem to suit this traveling life perfectly.  And it's so nice to read them in bed.
I've been camped for the last five days next to two other Lazy Dazes.  One of them belongs to my neighbors from the Balloon Fiesta, Marian and Jerry from South Carolina.  The other couple`is from Maryland, Sharon and Bill.  We've had potluck dinners together, and we three women even went to a local hot springs spa for a wonderful soak next to the Rio Grande River (which is very chica here now).  Elephant Butte Lake State Campground is the largest and maybe nicest in the state, but we are at the very edge overlooking the lake, and it seems quite private here.
It's been a good week, and so pleasant to be with compatible people!  But today I will leave to head south again.  I feel sure I will run into these friends again.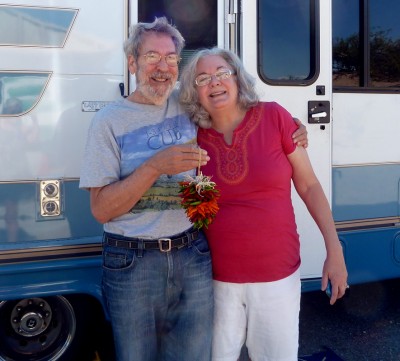 And just before leaving, I met a new friend Jer Thornton, with his dog, Baby Girl, and his scooter with sidecar (for the dog).