I left Puerto Penasco on December 29, and headed south to Kino Bay, determined to see the Coastal Highway that I'd heard was passable, but could get very little information about it, either online or from people who had driven it.
Turns out the Camino Coastera highway along the Sea of Cortez is amazing, both the good and the bad. Just south of Puerto Penasco the highway is full of potholes and is pretty awful, but past the federal checkpoint, it does improve somewhat. Then from Desemboque to Puerto Libertad, the new highway is a glorious wide highway with huge paved pullouts and even an amazing rest area with picnic tables. All along the way are lovely views of the Sea of Cortez. There is almost no traffic and no services at all (which should be a red flag to my little brain by now…). But after about a hundred miles the nice highway abruptly stops at Puerto Libertad, which seems to have a refinery and is an old village surrounded by garbage.
The coastal highway was a tourism dream of Vincente Fox, a former President of Mexico, and must be seen to be believed. It would be a good place for a group of RVers to go down there and camp together, then return. Continuing on from Puerto Libertad the rest of the way is broken up with terrible potholes and is often washed out. One long section was completely destroyed by a big earthquake a few years ago. I wish I could have stopped to take pictures, but there was absolutely no way! Nobody believes the entire highway will ever be completed. I was relieved when I finally reached the main highway to find that I still had air in all ten tires. If something had happened on that very long single-lane detour through the sand, I would have just had to keep going since help would never come and meeting another vehicle would have been a disaster. The horrible drive along the earthquake-destroyed highway was traumatic, in fact I'll bet mine was the only motor home that has ever made that trip, especially towing a car! I'm very glad that I made the journey to experience it all for myself, but I sure won't be going back that way!
I sadly noticed that I lost one of the Acura hubcaps on that terrible drive, and wonder if I can get another one somehow? I also lost the exterior light cover by the door of the motor home, but maybe I can get one from the factory or else will tape some plastic over the fixture. Travel with me is always hazardous since I inevitably go places where I have no business wandering, so I'm lucky I haven't done even more damage. Nothing would surprise me and I never know how bad it is until it's all over. This is yet another reason I should never caravan with any other driver!
When I got to Kino Bay, I drove through the five miles of expensive homes along the beach at Kino Nuevo looking for my friend Jo's favorite RV spot, but it turns out that although it still has a web page, it has been gone for more than ten years! I took pictures of where it used to be for her. It was already dark by then, but I was able to pull in and park at a nearby RV park for the night, then moved the next day to a beautiful adjoining park that was nearly empty. This place, Kunkaak, was built almost 30 years ago when RVs were smaller, so there's not much room for the modern mega-motorhomes with slides on both sides… also it isn't completely fenced to keep out the locals so that northern campers can feel safe. In other words, it's perfect for me, but unacceptable for many traveling RVers. One of the only other rigs here was, believe it or not, from Delta Junction in Alaska! The charge is over $20 a night to stay here, but although I mostly camp for cheap or free I stayed a couple of days to rest. I needed recuperation time between big adventures. The town still doesn't have any major stores, or a single bank, and there's only one ATM, the kind that reportedly sometimes keeps your credit card.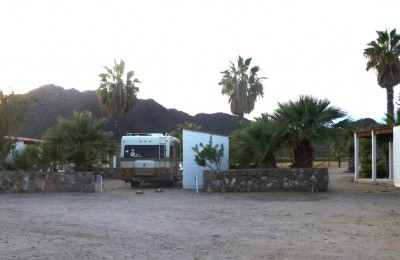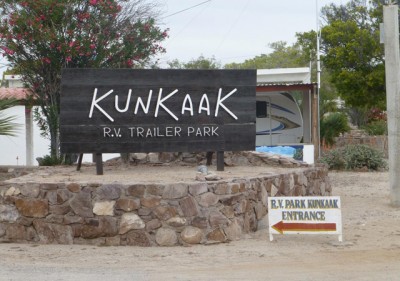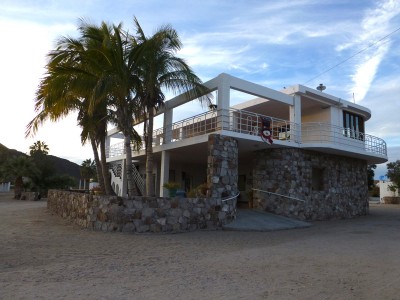 I did go down to Kino Viejo, the old town, and bought some shrimp and baby clams from a fisherman, to make cioppino for New Year's Eve. Then I met a very nice woman who was hiking along the road, she's living in a rental apartment nearby with her boyfriend, so I had Sylvia and Richard over to share my seafood soup. Nice evening, and I love meeting interesting new people.  But it was funny when they came over early in the morning to say goodbye, and I was still in my morning jammies!  We took a picture anyway.
My son Grey called from north of Las Vegas to say that they are having snow for New Year's. He said it was 17 degrees in the morning. I'm glad I'm not there! He's been building a huge quonset hut into a big shop, and sent photos. It has a nice work area and an upper loft. His tools are beautifully set up in a room below the loft. The workroom even has a cozy woodstove. I don't think he'll be moving away from that place anytime soon. It's just as well, since he has 12 years before he can retire with a pension from working with Nevada State Forestry.
I left Kino Bay on New Year's Day to drive down to San Carlos. I had to drive through downtown Hermosillo, not being brave enough to test the reportedly poor highway "shortcut". I had enough of terrible roads for a while.
It's good to be back in San Carlos. There are a few other RVers in this open area near the estuary, some of them I knew from when I was here two years ago. My friends Jan and Bob are nearby in their big Class A motor home, they are a lovely older couple from Salt Lake City and this is their 13th winter on this beach. Bob keeps a boat here for sea fishing, and goes out at least three times each week. When I first drove up through the sandy trail in my motor home, a police truck stopped by to chat, said Feliz Ano Nuevo ("Happy New Year") and when I pointed out my motor home, they said "Bueno!" They've been cruising by often since then, watching out for us remote campers.
I have been baking breads, treats, and cooking other food to share. Another couple from Vancouver, B.C. was here, but they left to drive down to Melaque on Tenacatita Bay. I'd like to go down there, but it'll have to wait for another year. Our estuary "gang" had a potluck last weekend at my motor home beside the birding pond, and we'll have more. You never know what those bachelors in their camper vans might bring, but it's always fun.
The weather here is glorious! I'm so glad to be away from the cold winds from further north. I really love the wading birds, herons and egrets, lots of hummingbirds and other flying birds. They are constantly amusing with their fishing, fights and bickering. The problem with remote camping like this is getting services – clean water for the fresh tank and somewhere to clean holding tanks. The only dumps in San Carlos are in expensive RV parks, where you have to stay. I did flag down a propane truck and they followed me out here to fill my tank. I was so proud of myself that I managed to do it, since other campers haven't been so lucky. I've also helped some campers who've been coming here for years to figure out how to get their internet Telcel aircard connections to work better, converting cellphone minutes to gigabytes so they last many times longer. I could make a living teaching classes! Things like this are extremely hard to figure out in Mexico, since the technicians don't know how to do it themselves. Their big business is just selling cellphones and marketing minutes.
I negotiated the terrible backroads to my deceased friend Healy's house, but was depressed to see it. Obviously the family never comes down here anymore, it's all grown over and deteriorating. I'm so glad I went there two years ago when it was still recognizable. I sure didn't take any pictures this time, it's better to keep the old memories.
It's great to stay in a place long enough to start learning the best places. There's a little European bakery here, Ruth & Rudy's, on the road in to town where you can get a nice pastry and use their fast wifi. Last week I went to listen to my solo RV friend Susan play her steel drums in a little band at the country club. She and many others who were there are winter residents at the big RV park, but for me it's much cheaper and more peaceful living out of town where it's free. I also attended a couple of Rotary meetings, was surprised that some members remembered me, and I'm getting involved again in their activities. This weekend is the "Cow Plop Bingo" fundraiser, with food, music, and games by the beach. People buy a ticket to reserve a two-foot square and they will have three cows to wander around the grid. There are three prizes, one for each cow. If one of them poops on your square, you get 5000 pesos ($400) for your 50 peso ticket ($4). If a cow has the runs and the poop goes across two squares, they split the prize. Everyone laughs a lot and loves this event.
I had thought I might go up to Quartzsite in Arizona again this month to see old friends, but have decided it's best to just stay here for a while and save the expense. I've had a bit of vertigo lately, anyway. It's been decades since I had an inner ear infection, but I'm slowly getting over it. Next, I still want to see the Baja side of the Sea of Cortez and drive the new coastal highway there before it all gets developed. I hope I stay healthy enough to keep coming down here in future winters and go even further south. I'm surprised that this rootless sort of life suits me so well.
FRIENDS – in Puerto Penasco
FRIENDS – in San Carlos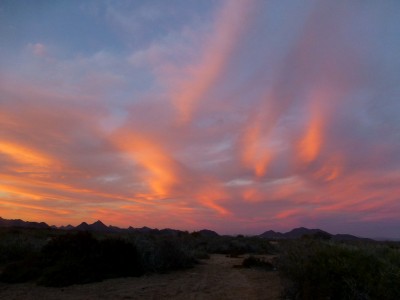 BEAUTIFUL BIRDS – by my campsite