The end of September I left Alaska to resume life in my motor home for the next three months.  It was a busy summer with family, but I look forward to the freedom of the road, and especially the Albuquerque Balloon Fiesta to celebrate my 67th birthday in October.  I'm not a very good snowbird, because I plan to return to my Soldotna home for most of January, before I go back to life on the road for nearly three more months.  Unfortunately since I left Alaska, the rains kept coming!  My wonderful house-watcher Guy has been battling water seeping into my basement again, and I'm relieved to pay him for the privilege of being able to be far away from all that work!  They've had almost a solid month of rain when it should have been cold and wintry there by now.
The Casa Grande Shuttle Service is a great service to get from the Phoenix airport to my RV storage, they came right on time and brought a van big enough to haul me and Cheyenne, her big dog crate and three heavy boxes of supplies for my "home".  I can't say enough good things about Rick and his son Jim who provide this reliable shuttle for travelers.
My motor home was just fine.  There was a coating of dust but everything seemed okay and the extreme Arizona heat did little damage, so all that "summerizing" may have been overkill, although there were big dust storms while everything was in storage. My motor home started, but only made it as far as the first gas station before it wouldn't start again.  I got a jump with my own cables from a nice old farmer, and after conferring with a Coach Net tech on the phone (a woman!), I headed back to Auto Zone to get the battery checked and ended up buying a new five-year one.  I discovered that the Motorcraft battery in the engine was the original one that came from the factory!  That means it was in there from 1997 to 2013, sixteen years!  It was surprising that it worked at all, even though the motor home only had 33,000 miles on it when I bought it.
Before my arrival, I had paid to install two new Michelin tires on my old Acura because I was told by my friend Shar that the tire that was patched before I left in April had gone flat again.  It was expensive but I do need good tires.  I'm aware that the four dual rear tires on the motor home also need replacing due to age but not wear, so hopefully they can last for a little longer for me to save some money before that big expense.
I stayed two nights at the SKP Rover's Roost park getting set up and trying to adjust to the HOT weather.  I left as soon as possible to head to the mountain home of my old friends Bonnie and Doug Towne.  It was a steep climb through Payson, but fortunately when I got there the weather was much cooler.  I just don't do well in the heat.  We spent a day running my car around to have it inspected and get it titled in Arizona, since the "totaled" insurance payment last winter wouldn't allow me re-register it in Alaska without driving it up there for an on-site inspection.  It was a huge hassle, but Bonnie was happy to spend the day with me visiting while we had to drive almost to the New Mexico border to the port of entry for a thorough $50 inspection!  Anyway, it did finally get registered in Arizona, at a cost of $75 for 5-years.  I can always take the title when I'm home and change it back to Alaska if I want.  Since Arizona only puts a plate on the rear, I decided I might as well leave the Alaska plate on the front.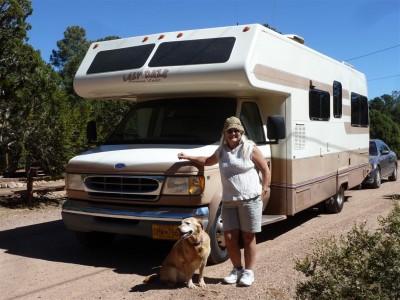 Before arriving in Albuquerque for the Balloon Fiesta, I stopped overnight at Bluewater Lake State Park in New Mexico, and was surprised to see several other Lazy Daze motor homes parked there.  It was amusing when I walked to the office and returned to find several people standing by my rig!  They were the other LD owners, wanting to see who would climb into mine.  Among them was a man I recognized from the LD forum, Andy Baird!  He is the acknowledged expert on all things Lazy Daze, and has helped me and many other owners in the past.
While at Bluewater Lake I met Susan Forbes, traveling in her Roadtrek van with her yellow lab Bella.  It's always fun to meet other solo women, and we later spent time together at the Balloon Fiesta and have kept in touch since.