I had a fabulous, warm and sunny winter in Mexico, wearing shorts every day, taking long walks with my dear old dog Cheyenne. I love my motor home and the serene, peaceful life we have at the beach, beautiful birds everywhere, nearby winter camping friends, my active Rotary group, community activities with good food, lots of hugs and happy times. When I got home in April the lake was still frozen solid.
It was a good summer in Alaska, even though it wasn't very warm and there weren't a lot of sunny days. I think it only got up to 70 degrees two or three times all summer. Son Peter and Grandson Janek arrived from Germany late in June for the commercial fishing season, and then until mid-August Janek was with me nearly every day and night. This was our sixth summer together and over the years we have developed a sweet friendship and had a lot of fun together. In fact, he undoubtedly knows me better than anyone else in the family. It was a busy, hectic household, and I was grateful again that I still have a house big enough for a family. It was tiring but fun. Although I don't keep up this journal very much while I'm in Alaska, I will add some of my favorite photos from the summer.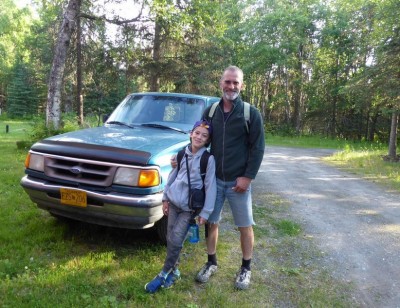 By the time I was preparing to head south in October, it was freezing again and the lake had a skiff of ice. It had been a beautiful fall, but the last month was very hard, as Cheyenne's health began to suffer and she died on October 7, the day before my 71st birthday. There were some days when she seemed like her old self, was always eating, drinking, happy and eager to walk, but then rough spots that culminated in a terrible last day. What a good life we have enjoyed together and she was almost 15 years old which is elderly for a lab, so I remember her with joy. It will be strange for her not to be traveling with me, and walking every day, any more. It was good that she lived until Peter and Janek had returned to Germany, and I had a couple more weeks after she was gone to recuperate before leaving myself. Since I want to travel longer and farther, I won't be getting another pet. In fact, I don't really want anything to take care of, not even a plant!
I had some important things stolen while I was traveling — my laptop computer, my camera, and binoculars… so I gradually got them replaced. Unfortunately my homeowners insurance wouldn't cover anything.
It was good to be back in the motor home, preparing for a winter in the sun. I started out in Arizona, cleaning everything up and readjusting for a few days at the Escapee Park. Unsurprisingly I needed to buy a new battery for the car, since it had been necessary to recharge it more than once last winter. Then I drove up to Nevada to visit my older son Grey north of Las Vegas at Indian Springs. He fixed the driver's door handle on the Acura, but never got to the other things like the generator repair or servicing the swamp cooler. In fact, I spent five nights parked there, and he spent the last day angry, so it was time for me to leave. As the old saying goes, "House guests are like fish… after three days they start to smell". That still goes, even when you bring your own house!  I did get to see my only great-granddaughter, Ava Rose, who is already a year and a half old!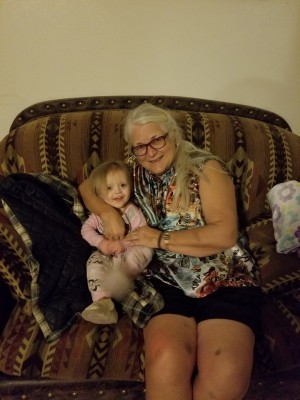 I spent a couple weeks regrouping in Pahrump where there are always many other solo RVers. One of them, Michael, worked on the generator for me, replaced the spark plugs, the fuel filter and cleaned out the carburetor, but it still wouldn't run! Oh well, I'll get it to a real repair shop someday, but since I hardly ever use it, I don't really care. The weather is perfect for me, in the 70s during the day and the 40s at night. Of course people here think this is freezing cold and are all dressed in winter clothes. It is a great place to walk, since the town is mostly level. Sometimes I even got 11,000 steps, which is good for me.  I was able to attend a huge American Native Pow-wow, and got to meet the dancers from San Miguel de Allende who came up from Mexico!
I helped fix Thanksgiving dinner for nearly 200 people at the Moose Lodge. It was really fun, especially since I am a member of that Lodge. It was pleasant and easy there, I even had electricity instead of boondocking with no services like I usually do. I could vacuum and clean up years of dog hair. I could walk every day and then attend happy hour at the RV park where the Solo group was staying. But then it was time to go!