Yay!  I arrived at the Balloon Fiesta and was immediately parked in the Lazy Daze area which was right under the launch path, with 38 motor homes in our group.  Within hours, I found that Susan's Roadtrek was parked a few rows ahead of me, and my old solo friend Carol was in her new huge class A Allegro down my row to the left.  In the end I stayed here nine days instead of the five I planned, and it was a busy exciting time of balloons, potluck dinners, local trips, and making new friends.
While still in bed as dawn was lightening the sky, I could hear the hot air balloons' propane burners hissing overhead, and could see them slowly drifting in the sky out my window.  The thrill of seeing them never faded, and we couldn't stop taking hundreds of pictures, even those folks who had come to this fiesta over several years.  I felt like an excited ten-year-old, especially when the winds were good for the "special shapes" balloons!  I can believe what they say, that this is the most-photographed event in the world!
There are lots of balloon photos in the online album at:
https://picasaweb.google.com/114151308825939701368/2013FallRVTrip1BalloonFiestaAlbuquerque
For my birthday on October 8th, I was surprised that the group made me TWO birthday cakes!  It was such a fun way to celebrate being 67 years young, and still having adventures!  That night Carol and I made our way up on the the world's longest aerial tram to have my birthday dinner at the top.   My group had daily happy hours with snacks or potluck dinners every night, so it was a lot of socializing for me!
Finally, I filled my tanks and left for the mountains.  I stayed at Villanueva State Park for two days, without cellphone service or internet, spent time cleaning up the motor home and taking quiet hours to recuperate from all the activity.  It was beautiful and peaceful alongside the Pecos River.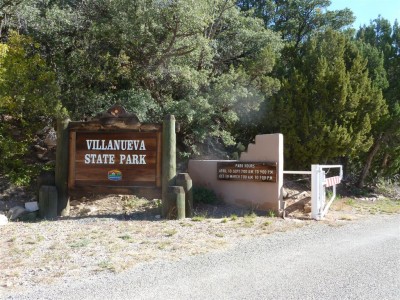 Next stops, Santa Fe and Taos!