Gloria and Sonny arrived on June 4 for a two week visit. We first met as over-60s Peace Corps volunteers in Romania in 2007, and have often traveled together since then. This is probably the only time they will ever be in Alaska, so I want to show them some of our beautiful places. Of course I also have a lot of other things to do, but they have been willing to help so that's nice. Sonny and I mowed the lawn together, two asthmatics huffing and puffing, taking turns with the heavy lawn mower (thank heaven I managed to get it started!). Gloria helped me paint the old 1962 Airstream, so I will be able to take it camping this summer. I had already scraped and sanded all the walls and ceiling before they got here, and put a coat of Varathane on the hardwood floor. Unfortunately the polyurethane was very old and took forever to dry, so it gave us a few days to do other things before the painting could be done. Since I'm used to doing everything alone, having help like this has been wonderful.
We drove to Homer one day, and took a boat trip over to Halibut Cove. My friend Jane joined us, and we had a lovely time in this gorgeous place. It was sunny and the Kachemak Bay was calm so the trip was perfect. I'm sad that the day was too busy to wait around for the halibut fishing boats to come in, so we didn't get any photos of my visitors beside the huge fish, but we know that you just can't do everything. We did manage to get to the Pratt Museum before it closed, though, and enjoyed their wonderful display of whales that come to our part of Cook Inlet.
We had such fun at the Saltry Restaurant, walking around the island, and taking pictures.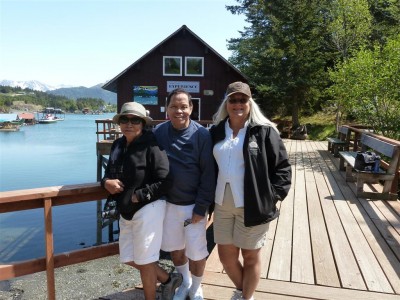 After returning to Homer, we went up to Jane's house on the ridge above the city and relaxed before the drive back to Soldotna. Of course we got some more photos. Then on the way home, Gloria and Sonny reverted to being a couple of big kids, playing on my favorite tire swing.