Many years ago I drove through Quartzsite, Arizona, during the winter when there were motor homes everywhere, flea markets, RV supply sales, rock and mineral shows, and people milling around on the streets.  At the time it struck me as unbelievably creepy, in that big flat desert, although I did get out and walk around for a while looking at the gem and fossil tables.  But this time I surprised myself driving there on purpose during that busy season, to spend my first week with my motor home and my dog, camping with other Lazy Daze owners.  It was a long day's drive from Indian Springs north of Las Vegas, through the city and with a long downhill-uphill detour (by mistake) to Laughlin.  I arrived just at dusk and decided I should stop to get gas in the motor home and the car before finding the campsite.
All day I had been shaky, anxious about towing a car for the first time, and half-believing what I had heard about my Acura being un-towable and expecting the transmission to be completely fried. My consolation was that the car had already been paid for as totaled by the insurance company of the girl who hit it last fall, and also that I had already owned it for nearly 20 years and it had a good life.  I knew that I could not back up at all while towing, and had to pull in to the gas station so I could pull straight out again.  Naturally that meant I had to wait for some rude idjit ahead of me to go in the store, flirt with girls, smoke a cigarette outside and then chew the fat with other guys while he looked up every now and then smirking at me.  I decided to just meditate for a while and practice the patience I had learned in Romania where standing in line is a national past-time.
Finally I finished with the gas and by now it was dark.  I called Roger, the organizer of the campout, and he gave me directions to the campsite, saying he would meet me at the BLM kiosk by the highway.  When I got there, he drove ahead and I followed on the very rough desert road until we got to an area with a dozen or so other Lazy Daze motor homes.  The first thing he said when I parked was "Couldn't you find a bigger car to tow?"  The second thing was "Some of the guys will come over and help you unhook the car."  I said that my son told me I should be able to hitch and unhitch the car by myself and that I didn't need any help.  He muttered that the guys always helped each other, but they left me alone while I detached and set up my campsite. I was unbelievably relieved when my car started right up and the gears all worked!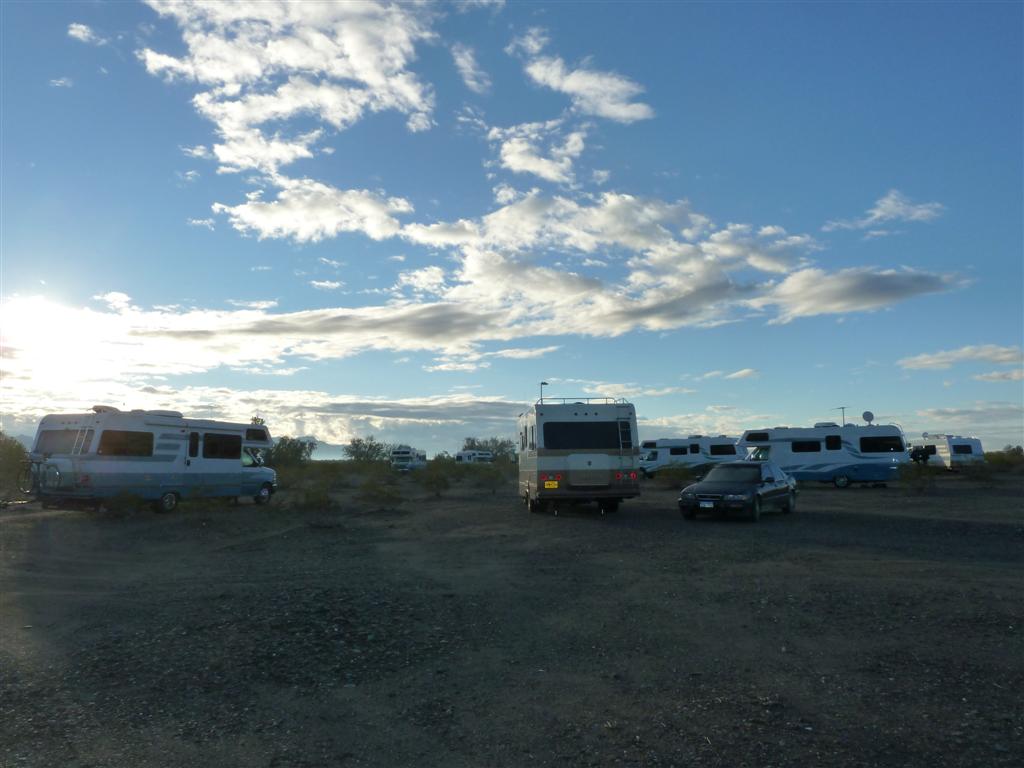 My ego was somewhat deflated the next morning when I went to start the car and the battery was dead!  I wasn't terribly surprised though, since that substitute battery had already gone dead in Las Vegas a couple of months earlier.  I met my kind neighbor Trecil who jumped my car so I could make my first jaunt to town, where I got a new Interstate battery.  Later it turned out that Trecil traveled first to get his solar panels from the guy I would use later, and another camper in our group, Chris, would do the same after me.  It was wonderful to share these "firsts" with other people, as we were learning at the same time.
It turned out to be a very nice week in Quartzsite with Lazy Daze owners coming and going, potlucks together at night, sharing ideas and information, and making friends for now and some forever.  Every day there were gem and rock shows, RV supply sales, special events and bargains galore.  Best of all, the sunsets and campfires were wonderful.  One thing about Arizona in winter, the sky is a wondrous ever-changing vision.  (But as I write this in the spring, the sky is eternally blue and the sun is unbelievably HOT!)  I learned that these campers came from every walk of life, but carefully chose this motor home as the best for dry camping, or "boondocking", full-time living, low maintenance and complete reliability.  This company must have the most passionate owners anywhere, and they form a support group to provide answers in a daily forum where we can all get help online within minutes.  What a pleasant surprise.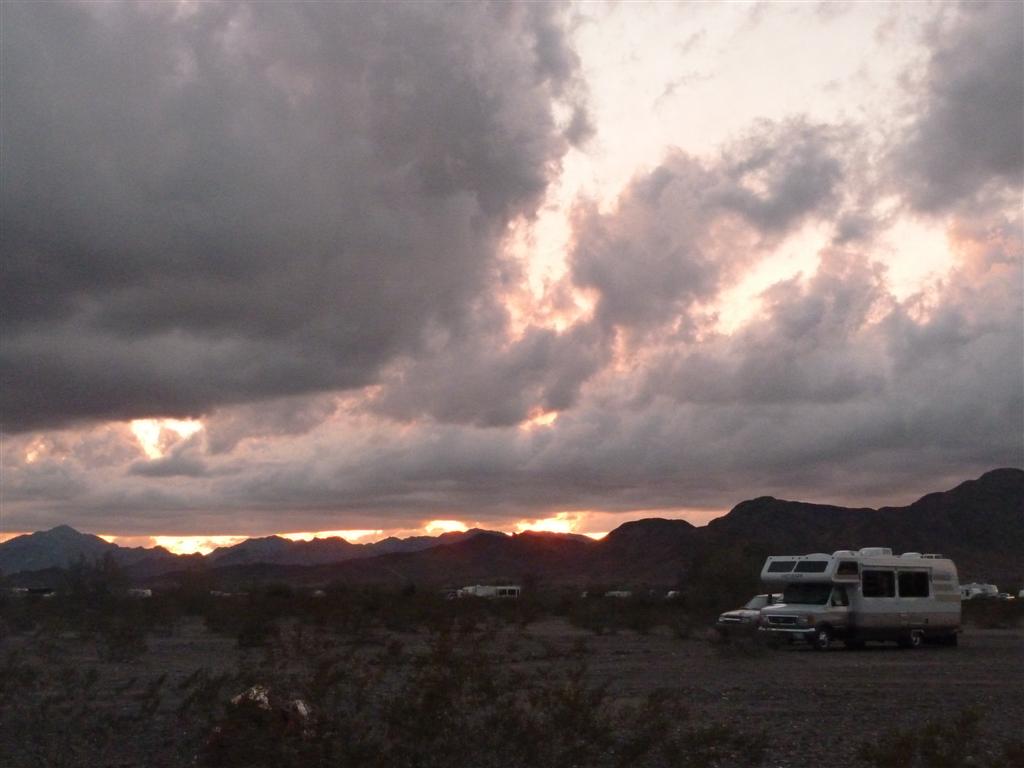 I gradually began improvements in my new home… sewing stretchy cords on Cheyenne's doggie passenger seat cushion to hold it in place, installing a magnetic knife rack in the kitchen and a coat rack in the hallway, stocking the kitchen with supplies.  I never dreamed I could spend so much money in a Dollar Store!