Leaving Quartzsite, I went to Gila Bend to attend my initiation to the Elks and spent a couple of days camping in their parking lot.  This is a strange little city, at a crossroads between major highways and a road to the Mexican border.  Then on to Casa Grande to attend the Gourd Show with Shar.  I kicked myself for not taking my camera to the show, because some of the gourd creations were absolutely amazing.  Beautiful and inspiring.  The only thing I bought was a lovely small painted carving of dragonflies.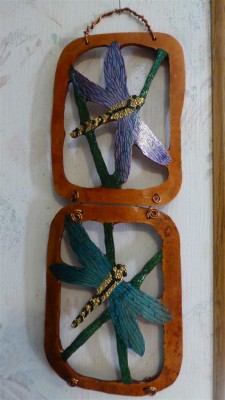 While at the SKP park, Marv Braun, who installed my solar panels last winter, put a 12-volt outlet in my dining area.  This will make working at the table much more convenient.  He assured me that since my solar panels charge the coach batteries to 100% most days, even when it's cloudy, and I rarely (never) go below at least 80% charge, then apparently I have adequate panels and batteries "to suit my lifestyle".  That's good to hear.
Next stop was Ajo, where I stayed again at an Elks lodge, in a very convenient location.  This is a nice little town that's quiet and very pleasant for walking.  In the central plaza, which is all blazing white, a small gift shop even sells my friend Toni's pressed flower prints.  I had thought I might camp in the free BLM area of the desert behind the mines, but this is so much better, and is adjacent to a good path with bridge over the dry creek next to my campsite.
I decided to keep driving south to Organ Pipe National Monument and check out the border crossing.  I still wasn't sure if I would continue to Mexico, but the next day I decided to go for it.  I was surprised when both the U.S. and Mexican border guards just waved me through.  Perhaps it made a difference that I still have the 10-year permit for travel in Mexico on my motor home.  I had heard that some of the Solos were camping at Concha del Mar RV Park on the beach at Puerto Peñasco (Rocky Point), so I decided to stop there.  It's only an hour and a half south of the border and I hadn't been to this place for more than 25 years.  I wasn't very impressed then, but who knows?  Unfortunately I wasn't aware that the city streets were all under construction, and it was an adventure finding the RV site, with much turning around and misdirection, and even for the first time having to disconnect the car to get turned around on a narrow street that was being paved (no warning signs, of course).  Finally I found some American campers to lead me through the maze of streets, but then I followed them as they drove through a red light and I got stopped by a local policeman for the first time ever in Mexico.  My guide turned around and the policeman wanted us both to go to the police station to pay a fine, but he understood that I would have to disconnect the motor home and leave it first.  So he followed us to the Playa Bonita park where they were camping and by the time I came out of the office the guy was paying the policeman $30 off the record, and he happily went on his way.  It was a relief to find the right campground and settle at my own patch of sand near the beach to rest and recuperate.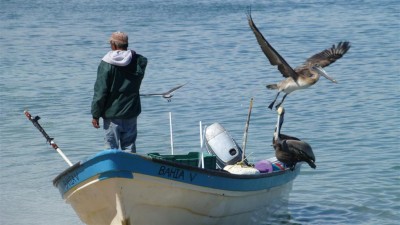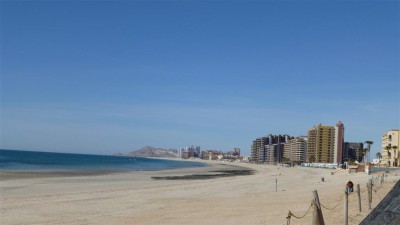 I have spent three weeks next to the Sea of Cortez in a big open sandy lot.  There were a couple dozen WIN members here over the first week, but I'm not part of their group.  There are other non-joiners from the U.S. and Canada and it's fun getting to know them.  Shar finally decided to come down here too, for a while, although she was scared to death about traveling in Mexico.  I finally emailed her that I would keep driving south if she wasn't coming, and suddenly she showed up.  This town is very Americanized, as I remembered from before, but it's full of nice local people and the weather has been perfect.  There's lots of shopping, people-watching, and places to walk.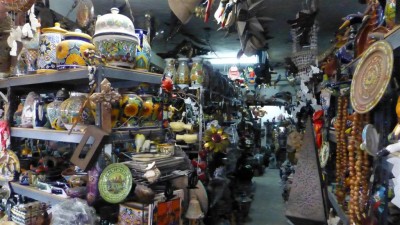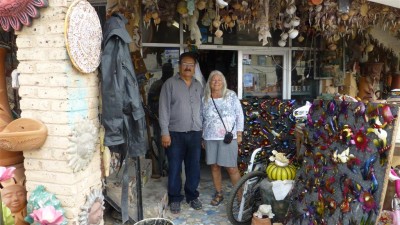 Shrimper boats are working right offshore in the bay every day, there are many opportunities to go fishing and the seafood is wonderful.  Restaurants are everywhere, some are really good.
Many RVers were getting cleaning, painting, repairs, and other work done at low prices, so I asked about refinishing the scratches I got at the Live Oak gathering in California.  Antonio did the job by himself for only $80, and it was a kick to see him mixing the paint in a coke bottle, adding tint a drop at a time, and testing it with his finger.  He did a good job and I took many pictures of the day's work.