I'm home after the long flight from Arizona, and it feels pretty darned comfy here. I lie in my bed in the morning, overlooking the lake, where I am finally adding an update entry to this journal. I appreciate my friends who spur me on to keep writing.
I guess the big move back to Alaska was stressful because I was exhausted for a whole week after I got home. It's always hard to prepare the motor home to leave it in storage for the summer, and I'm anxious when I finally leave. I inevitably forget something, no matter how many checklists I keep or how many times I go through them. It's easier to leave my house and the vehicles in Alaska, even though the winter climate is rougher and the complications can be so much greater. But I've done it so many times that I'm not concerned about it. In fact, I never even disconnected the batteries in the Subaru or the 4×4 truck throughout the winter, and they both started right up! My wonderful house-watcher Guy takes care of everything beautifully, even problems from the heavy rainfall in October and November and again in January. He's unbelievably reliable and I'm grateful.He even turned up the heat before I came home so it would be nice and cozy.
When I got to the house from the airport, there was a baby moose in my yard and it didn't even try to run away. In fact, when Cheyenne jumped out of the car, she ran toward it but then stopped to drink from a snow-melt puddle, and the calf walked right over to her! I think it might have been lonely, since it was quite small and there was no mama moose around. You can see in the photo there was still snow on the ground, although break-up was earlier than usual and April was very dry.  You might notice that this little moose has eaten all the bark off the tree during the cold months!  Other times it has been the rabbits – snowshoe hares, that is – who have eaten all the bark they can reach.
Until April 27 the lake was still frozen over… but April 28 the lake started to thaw and by the first of May the ice was gone.
The next day the loons came back, but their first night they never shut up! I thought I'd need to dig out some ear plugs in order to get some sleep in my own house! Loons are mated for life and always return to the same lake, but I think one of the pair must have had a delayed return flight! Anyway by morning they finally quieted down.  Maybe "the wife" arrived and nesting began.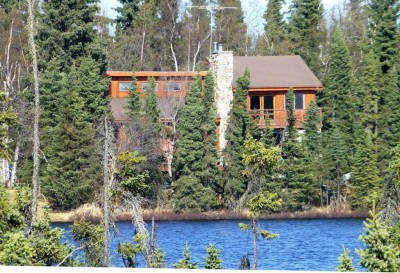 Saturday was Kentucky Derby Day, and I baked a fresh apple cake for a pre-race potluck at the Elks Lodge. My friend Jo and her husband David in Oregon are fanatic horse race fans, so they're always watching and email all the early information. I'm gradually getting back into community activities, the Watershed Forum, birding activities, book groups, theater, and very soon camping trips. I'll head up to Anchorage the middle of the month for Rotary and want to keep going north to Talkeetna to visit my Aunt Pat.
The rhubarb is poking up out of the ground, but everything else is brown and drab. Usually it comes up when there is still snow on the lawn, so clearly breakup has been earlier this year.  It will take a couple more weeks before things start to turn green. It's funny that I was suffering from the HOT HOT spring weather in Arizona, but now weeks later I'm impatient for leaves and flowers in Alaska. And of course that soon will mean mosquitoes, but with the dry breakup they might hopefully not be as bad as last year.  The weather has been sunny and beautiful and is gradually getting warmer. Aside from my usual aches and pains, I feel pretty good and hope to have an active summer. Cheyenne and I have been taking long walks almost every day, so we'll be ready for longer hikes.  This week we did walk all the way in to downtown but I turned around when I kept remembering that I have to walk back, all the way back up the hill to home.
UPDATE –
A few days later, moose were in my yard again!  This time it's a mama with her baby, quite small for a yearling.  And I see that it's the same little moose (the scar on its rump is evident).  What a surprise, apparently the mama is just fine.  She looks quite healthy too.  Don't know where she was that night when I arrived home.  Just for Gloria, here are a couple more pictures… I know she'll be delighted to know the mama is still around.  she looks so calm and peaceful, doesn't she?
 .