I stayed at the Los Compadres Campo for ten days before Candy and Jim arrived. The first week I was parked in Walt and Judy's yard, then on Monday I moved down beside the beach because they were going to have some work done for their water-sewer-storage system. I wasn't surprised when their contractor didn't show up as scheduled, but he did arrive a few days later. My Seattle friends stayed for only two days and three nights before deciding to return to the USA where they could get full RV hookups for their ginormous 5th wheel. This was their first experience boondocking with it, using their new solar panels, but they weren't prepared for the necessary "too much work", as Candy calls it, to live without full hookups, clean bathrooms and nice showers, and preferably a nearby town with conveniences not to be found anywhere on the northeastern coast of Baja. San Felipe does have one bank, a couple grocery stores, some tourist shops and restaurants along the malecon beach walkway, several gas stations and even a laundromat, but it's definitely not a modern city. Even the RV parks are small and rustic, not designed for big RVs like theirs.
My next drive will be heading south along the eastern coastline, into unknown but surely even more primitive conditions, so it was good that they turned back instead of going with me. Our beach wasn't level and the sand was kind of soft, so Candy was very worried that they would be stuck trying to get out. They retracted the slides the day before leaving, except for their bedroom and kitchen, because they also worried about having enough electric power to run them from their solar panels. Their panels work fine and they have twice as many batteries as I do, but apparently there's no monitor to know what those batteries are doing. I check my monitor several times every day so I know exactly how much power I am producing and using. If necessary I could always start my generator, but they don't have one. After the past four seasons of normal daily living, including videos on a big flat screen at night, I have never run out of power and never needed to plug in to electricity. I am repeatedly grateful that I have a compact motor home, perfectly suited to small spaces and diverse camping conditions. I am completely self-contained, don't need any services at all except someplace to park. I do start the generator every month or two to "exercise" it, so that's when I vacuum up the accumulated dog hair and run the air conditioner even if I don't need it. On hot days I prefer to use my factory-installed 12-volt swamp cooler, which works just fine in dry climates.
Most of all, I will miss my new and very dear friend Theresa, who has lived full-time in her lovely casita on the beach for almost 15 years..  She's a lively always-young 84 years old who goes for long walks in the desert almost every day with her beloved dog Canela.  We get along so well and have such fun, thoroughly enjoying each other's company. What an amazing, independent and determined old-but-still-young woman she is! We went for many walks and spent hours talking about everything under the sun.  I dearly hope we will keep in touch by email and snail-mail.  If it's impossible to continue on the terrible road past the end of the pavement, and I return this way I'd like to stop for at least one night to say goodbye before heading north.
The morning of Valentine's Day, my Seattle visitors had no problem at all hooking up and driving out. Since I had spent the previous day getting my freshwater tank filled with purified water, flushing and cleaning the holding tanks, and filling the motor home with gas, I was all ready to go, so within the hour I followed them, each of us heading in opposite directions. I always love heading into the unknown to see new places and have new adventures. This will be a short trip, so I want to take it very slowly.
The first 50 kilometers covered much of the same road where I followed the realtor to look at the round houses for my son Grey. The highway runs a couple miles from the sea, and all along the way there are almost continuous homes in sight along the beach. Finally the residences stop and then it's just desert with little traffic. The highway to Puertecitos was built and paved long ago and isn't in great shape, with innumerable arroyo dips for flash floods, some of them narrow enough to crunch a big rig trailer hitch, and lots of potholes. It means traveling slowly or riding the brake often, but even so I hit one dip hard enough to knock things out of the back storage cabinet. There isn't any shoulder and few places to pull off the road.
When I reached km 75 just a few minutes before Puertecitos there was a little cafe, the Cow Patty, across from a small cove for fishing boats. I decided to find a place to park for a couple nights so I could check out the village with my car the next day. I found Serena's little unmarked fishermen's tienda (a room with a few groceries on shelves), and she agreed to let me camp in her yard, so I pulled off into a small space overlooking the sea. The fishermen drive in and stop outside her back door, she comes out to see what they want, brings it to them and collects the money, then they continue around beside my motor home and leave. It got a bit noisy but didn't really bother me, however during the night I finally did put in earplugs and went back to sleep.  In the photos, I will include a sunrise picture from my dinette window for each morning of this adventure, so each one represents the following day.
The first morning I went in to Puertecitos village, avoiding the huge rocks in the roadway. I love my Acura, but it doesn't have a lot of clearance and I've hit bottom too often in its life. Fortunately there is a plate on the undercarriage or else some of those hits might have caused more damage. Besides, now that it's been repainted and is lovely again, I hate to bash it about more than necessary. I was surprised that the hot springs are shut off from the little village with a big gate which also encloses a residential area of gringo homes, and there is a $15 charge just to drive in to look around or use the springs, but $20 to camp overnight at waterfront sites and use everything. The campsites are small but nice, provide water pilas on the roof and downspout with a faucet, and even have electricity in the dark hours! There was only one tent camper in residence. I met a nice couple from Florida who have owned a home there for the past 30 years, which they bought when they lived in Southern California. There is even a little shack "library" full of books to share, and another for U.S. mail. Unfortunately there is no cellphone or internet service, but I didn't really expect there would be in this remote area.  I took some pictures of the camping area, although it turned out that I never came back to camp here.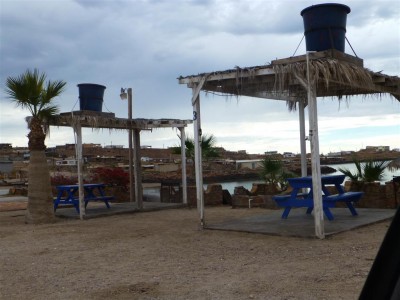 While sitting at my dinette, I could see dolphins and pelicans swooping and gliding. These are perfect hours of solitude to get some writing done, but I also took Cheyenne for a walk on the beach. The sand here is hard enough for easy walking or even firm enough for a car to drive on. The fishing boats come and go from a small cove to the north, being pushed in and pulled out by trucks with trailers, just as we used to do in Alaska. I didn't have to get up from my seat to use the telephoto on my camera to watch them through the windows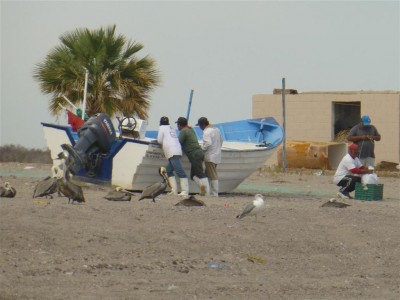 As you see, Cheyenne makes friends everywhere she goes.  These kids were wildly happy and fun to watch.
The second morning I decided to continue to Bahia San Luis Gonzaga, near the end of the pavement, which is about 60 miles.  I didn't know what would be ahead, but figured I could always come back if I couldn't continue and stop at Puertecitos then to camp,.
After Puertecitos the new highway began, and it was an absolutely gorgeous drive along the Sea of Cortez. There were huge rock islands offshore, much like the Oregon coast, but the waves were more tame. Sporadic campos are located along the shore, a few of them stunningly beautiful. Undoubtedly this wonderful drive will be more developed each year as it gets discovered.
The turnoff to Bahia San Luis Gonzaga is far more complicated and confusing than I expected, and it took several turnabouts to get it figured out. The entire beachside community is private, so there are security officers manning a gate barrier. After signing in and giving my license plate information, I was able to enter. There are already two existing dirt airstrips, and a third big new modern runway is under construction. I drove to the end to find Alphonsina's restaurant and hotel. I received permission to park my motor home outside for the night, at no charge, promising to come in for dinner in the evening. The long line of beachfront casitas are obviously gringo-owned, some with big elaborate shop buildings or even private planes, and each has a generous display of solar panels on top. Later I stopped at the so-called mini-mart at the highway, and was shocked to see a liquor selection that is better stocked than anything seen so far in Mexico, including major stores. Clearly price is no object here.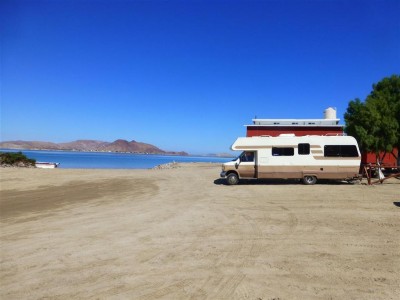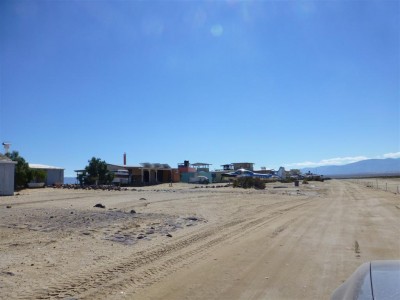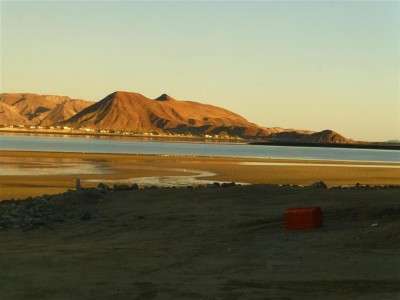 I took the car to explore the remaining 20 kilometers (12 miles) of pavement, as it headed inland toward the mountains. The unfinished remaining section has only 40 kilometers (24 miles) left to reach the main Highway 1 going down Baja. I had hopes of navigating that rough road so I could travel further south to Bahia de Los Angeles, but  I keep hearing how awful it is and I'd have to wait for the highway to be finished on another trip, maybe five years? I'd rather not tear up the poor Acura just yet, since it is finally looking good again.
So far I haven't parked anywhere with enough space for a big RV, so it's good that I'm doing this trip alone. But the drive is even more beautiful than I expected, and I'm so happy that now I've managed to travel both "new" coastal highways on each side of the Sea of Cortez. I'm sure that there will be big changes before I can return again.
I heard from locals that the connecting road to the main highway really is bad, so I guessed I'd just return north again, back to stay at Puertecitos Hot Springs! Or so I thought… now the rest of the story…
I left Bahia San Luis Gonzaga and headed north, but was immediately stopped at a military checkpoint for another search. Then at the top of the next hill I entered a pullout above the little community where I had just left, and talked to a couple who were airing up their tires in a 4WD pickup. Sure enough, they had just driven the terrible connection to Highway 1, in fact they told me they've done it some 30 times, to go to their place in Bahia de Los Angeles. But of course they travel in a 4-wheel-drive with high clearance instead of a motor home like me, towing a low-clearance high-performance car. But they said the road wasn't actually that bad, they drove 20 mph and made the trip in 1 hour 20 minutes. Their advice was to go very slowly and they thought I could probably do it. Another guy stopped in a camper van with dual wheels, carrying kayaks on top, he had also just made the trip. He told me about some problems he had in the past, but also said I might be able to make it if I was very careful. Since I had just dragged my poor already-abused Acura over a medium-sized rock just going to see the "round houses" for Grey, I was skeptical of the low clearance, but I also knew I'd probably never have this chance again. My life motto is "be alive before you die", so here's another opportunity to prove it. The worst that could happen is that the lovely old car would be ruined and I might get killed. Oh well, I've had an amazing life and I decided to try it.
As I traveled the horrendously terrible three-hour torture of this drive, I had to ask myself a dozen times what in the hell I was doing there? Did I have a death wish? Was I that determined to always stay beside the sea? Apparently the answers were yes, and besides, there was absolutely no chance of turning around. Every 100 yards I was sure I was dragging my poor car over rocks that were tearing out every critical part underneath it. When I finally made it to the halfway point at Coco's Corner after an hour and a half, with my blood pressure going through the roof, and could stop to walk around the motor home and car, I was not surprised to see an oil spot on the ground under the car. But there was nothing to do but take a potty break and continue on. As I drove, I squeezed by three semis and had to pass one that was stopped. I can't count the times I went off the road to follow an almost equally questionable path through the sand. About once every half hour I saw or stopped for another vehicle, almost always big pickups. How many times did I wish that I had my own 4WD pickup that's parked in Alaska? But today I was again in a situation where turning around wasn't even a remote option, and often the only choice was which big rock did I have to drag my poor car over, since there was no better way forward? Of course there were no shoulders, what a laugh. I even stopped to haul huge rocks out of the road so I could minimize the damage and keep going. Most times the road was only one lane wide, and if there was an oncoming car I had to decide which narrow spot to pull over, stop, and hold my breath until they squeezed by me, with an inch or two to spare. When I could take a hand off the wheel I tried to get a couple pictures, but they can't show any of the really bad parts. But – the final result was that after three hours I could see cars rushing by on the paved road ahead. Unbelievable, I had completed the Camino Coastera again! Both sides of the Sea of Cortez! I'd bet there hasn't been another motor home towing a car that has ever completed either drive. There's no prize, but my personal satisfaction is enormous.  (side note — I realize the Spanish spelling is Camino Costera, but I'll leave the coast spelling for American readers.)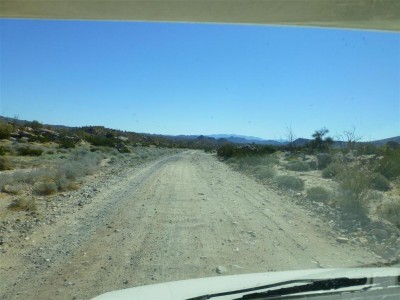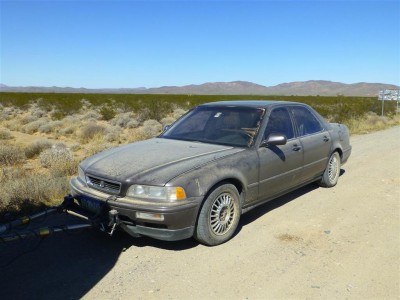 This time although I stopped at the highway to see if I had air in the tires, or oil dripping from the car, there was nothing to do but carry on. I had driven more than 30 miles from San Luis Gonzaga, and had another 70 miles to drive south to stop for the night. So I kept going. It took 1 1/2 hours more to get back to the Sea of Cortez, at Bahia de Los Angeles, where I stopped and dug out my Mexico camping book, trying to ignore all the things that might be broken or scattered around by now on the floor of the motor home. I found directions to the seaside RV camp at Duggett's and after unhitching there, I was amazed that my car still runs fine. Hope it lasts. I managed to get three nights for only 200 pesos, so I'm going to try to relax. Here I am camping again with a view of my beloved sea, in a safe place to put out my chair and table, and have a glass of wine. There's still no cellphone or internet, but my solar panels are charged and I can spend some time writing.  I'm camping about three kilometers outside the village, where there is no bank, no post office, no ATM machines, but there's a lot of nice people.  Will write more about that later.
About halfway to Bahia de Los Angeles from the main highway, I ran across this very annoying and determined white burro in the road.  Obviously it was used to being fed by people in cars because it tried hard to keep me from continuing down the road!
And here is the beautiful bay at my campsite –
Finally I was able to find a place with wifi so I could update this journal, although Bahia de Los Angeles has no cellphone service and only recently got electricity.  The second day a big group of "Vagabundos" drove in to set up with their big rigs and kayaks, and the RV camp began to seem very crowded!  Maybe if I wander around this town for a while I'll be ready to head back north again.  Of course I am sorely tempted to save lots of time and gas by crossing the divide again, but probably I've already pushed my luck with all my driving skill and should just keep to the main highway.