Next Stop – I attended a four-day RV Boot Camp, put on by the Escapees RV Club, between Congress and Wickenburg, Arizona, where I learned a lot about motor homes in general, but not much specific to my rig.  That stuff I mostly had to learn by trial and error over the following weeks, gradually sifting out the good advice from the chaff, and figuring out things for myself.
This beautiful old car belongs to a couple from Homer, Alaska!  We met at my Boot Camp and they gave both Cheyenne and me a ride around the whole place!  What fun!
There were classes every day, on everything from black water tanks to tires to fire extinguishers.  Some were actual demonstrations as shown below.  The teachers were mostly full-timers themselves, with a lot of experience and they were full of encouragement.  It is surprising how much RVers adore their livestyle, and how many do not even have "stick" houses.  Also, I was amazed how friendly everyone was, there at Boot Camp and everywhere else since.  It's almost like a family, no matter how big or expensive their rig, travelers are always cheerful and willing to pitch in and help whenever needed.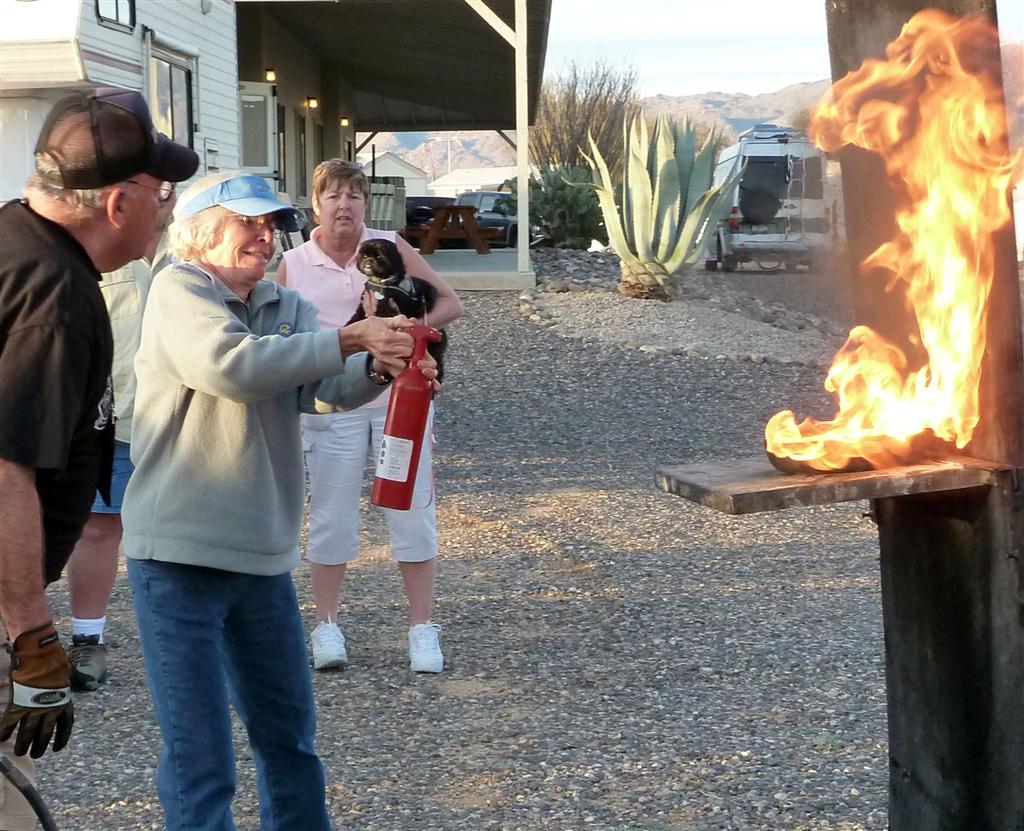 There were several solo women at the class, out of 76 attending.  The rest were all couples, possibly just one solo man.  I guess men already know everything and don't need any flippin' training. This group of Solo Sisters own all kinds of rigs, from expensive to budget, some towing cars and some not.  All were terrific, and we laugh when people keep calling us "brave" to go it alone.  I'm sure I'll see some of them again down the road!