I can't believe it's already December! As I enjoy the morning sun from my Mexican beach next to the Sea of Cortez, it dawned on me to update this journal for those friends who think I must have disappeared. We were getting lots of frost but not yet snow when I left Alaska in late October with Cheyenne. We had a good overnight flight to Phoenix and were promptly picked up by "British Mike"'s van to deliver us to my motor home in Casa Grande. I was amazed not to find any serious damage from the hot summer sun and area dust storms. Even the new paint job on my car had held up.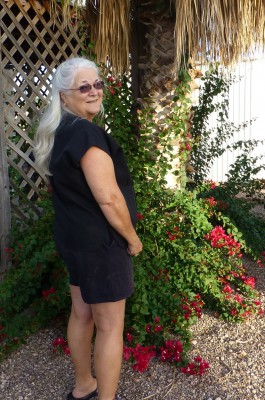 My friends Toni and Charlie Velardi were waiting for my arrival with big hugs, dinner and drinks. It was so wonderful to see them again! For a week we enjoyed long walks and great talks, good food and warm discussions about books, music, politics, and our strongly held opinions. I love these people! But after cleaning up my motor home and readjusting to life on the road, I was ready to head north to Roosevelt Lake where I would meet my old friends Bonnie and Doug Towne. It's hard to believe that it's been nearly 40 years since our friendship began in the small town of Cooper Landing, where our children attended the tiny one-room school. It was nice camping right beside the lake, only about eight miles from their RV park. They had just agreed to sell their adorable house an hour away in Overgaard, so after a couple days together they had to go back to finish packing up to move everything out for the closing. Doug had decided he was unhappy with the lack of things for him to do in Arizona, so they are going to move further East to Missouri or Arkansas, where there is better fishing and more outdoor activities. I don't know when I'll be able to see them again since a trip to that area doesn't seem to be on my bucket list. Most likely we'll eventually meet up in Alaska again.
I liked the Globe area when I drove through there two winters ago, but had never gone up to Roosevelt Lake or camped in Tonto Basin National Forest. Cheyenne and I enjoyed our three-mile walks every day around the lake, and watching the weekend campers coming and going, with their boats and gear to catch the hatchery stocked fish. I often saw a lone blue heron patiently doing her own fishing. Our camping area would close on November 14 for the incoming Canada goose migration, and I wonder if maybe they would be the same geese I saw flying over my house leaving Alaska the previous month.
I returned to visit Toni and Charlie again for a few days before heading south to follow the sun. While here I could receive Amazon orders for a replacement dvd player and new quiet power inverters, but forgot to get my accumulated mail from home. Being in Mexico, it might be a while before I get the chance again. Right next to Toni and Charlie, an Alaskan motor home came and parked, and the couple turned out to be from Anchorage with a summer cabin only a few miles from my house. Before we left, they gifted me with a frozen red salmon filet. When I came I had brought a package of smoked salmon with me, but naturally it got used for happy hour snacks within the first few days. I hope this salmon will last until I can share it at a Christmas potluck gathering with the group at my favorite San Carlos estuary. I'm so glad I have a good refrigerator and freezer to make life on the road so much easier.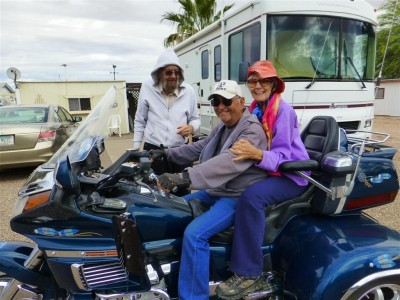 When I drove away heading south, I thought I might stay overnight at my Elks lodge in Gila Bend, but it was early and too empty there so I kept going. Then I thought I'd stay overnight at the Ajo Elks lodge near the lovely little plaza, but I drove past that too. I had read that the Gunsight Wash BLM free camping area past Why was quite nice, so decided to turn in there. Instead of open desert and cacti, I was very surprised to find trees and bushes, and lots of birds! I settled in a wonderful spot, put up the hummingbird feeder and almost immediately had some hummer "best friends". There were perhaps half a dozen RVs within sight, and a self-appointed volunteer camp host collecting the names of campers. It was lovely weather, sunny days and chilly nights, lots of nice areas to walk, and a planned community Thanksgiving potluck, so I decided to stay for a while. It was a peaceful, quiet week, perfect for me. I met a young man from Delta Junction, Alaska, camping alone with his black lab Clyde. I found Jeff doing some impresive cooking outside with a Dutch oven, using briquettes. He's a very self-sufficient young 36-year-old, happy with his wandering life, comfy reading in his hammock or jogging into the desert with his dog. It was great fun to talk with him.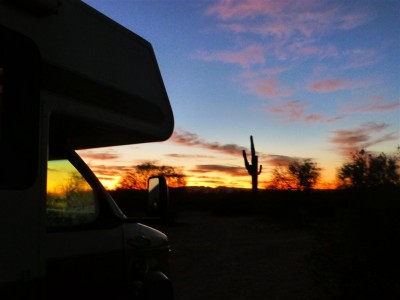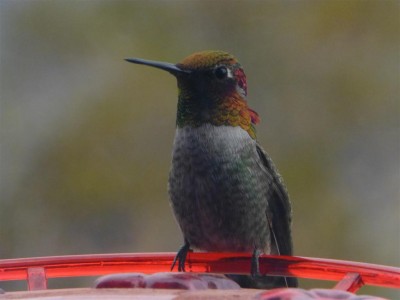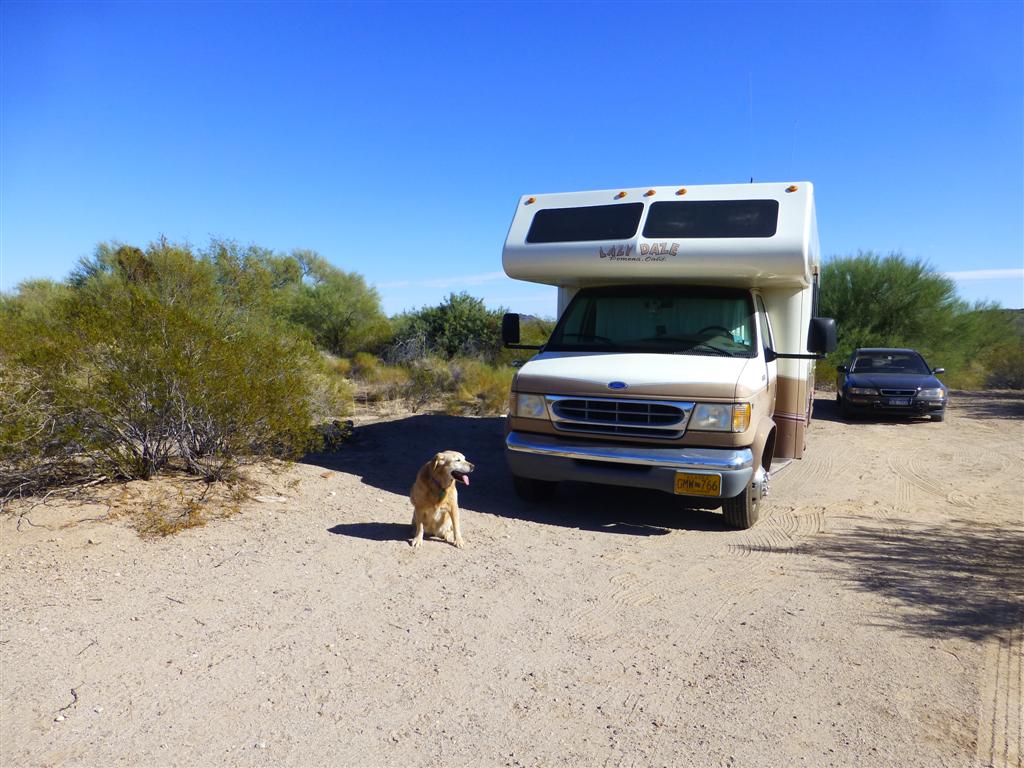 But finally it was time to cross into Mexico and find the sea again. My favorite Lukeville border crossing was as easy as ever, and I always wonder if my ten-year permit for the motor home doesn't help, but in any case I'm glad for it. One hour more found me parked again on my beach next to the Sea of Cortez. I'm getting used to needing a couple of days to readjust every time I move, so since I have clean tanks, full water, and plenty of solar power, along with a good stock of groceries, I have been happy to lie low. On December 1st I made a trip to Telcel to renew my internet SIM card, because getting online for my morning email and news podcasts is my main requirement, but then I found every ATM had a huge long line so I didn't bother to withdraw Mexican pesos. Turns out pensioners get their monthly allowance on the first of the month, so I'll wait for a while. I did have an old 100 peso note left from last year so I could get a pound of shrimp from my familiar beach salesman (about $6), and a couple dollars for fresh homemade tortillas from my old beach saleslady. There aren't many campers here yet, and nights are cool, so it's quiet. Perfect. I paid $50 for a week here, will decide later whether to stay longer. I usually prefer free boondocking, but this location is safe and close enough to walk to town, very convenient with fresh water and propane available as needed. This is where I had my car repainted last winter and we even have Lupe, our resident mechanic, who previously fixed my car's brakes.
After putting up the hummingbird feeder, it wasn't even five minutes before I had hummers! I so love them. The girl never bothers the boy when he's noshing, but she always comes as soon as he leaves. This new window feeder is wonderful, they are only a foot or two from where I sit, as if we are travel companions.