By New Year's Eve, I had neglected to update this web journal for such a long time that distant friends had probably given up on me! In fact, I had to go back and update the summer past in Alaska too. Since I'm sure these memories are primarily for myself when I get "old", it doesn't matter so much because I am already "older"! I'm thankful that I have a good mind and intact memories, am still independent and mostly mobile.
One month after picking up my motor home, I finally crossed the border into Mexico. It had been a long drive from Nevada, with an overnight stay in Parker by the Colorado River and another at my favorite site in Gunsight Wash near Why. Another long drive brought me south through Hermosillo and to the playa (beach) near San Carlos. A grumpy couple was at my usual place beside the little lagoon, so I moved over to a bushy spot by the Sea of Cortez. It was more protected and my neighbors included many new kinds of birds. I created a small lovely yard with the gas firepit and cozy camp chairs (I made new covers in Alaska).  My closest "neighbor" was a brilliant red cardinal that woke me up very day at 7 a.m., threatening the intruder cardinal he saw reflected in my window beside my bed!  This went on every day that I was camped there.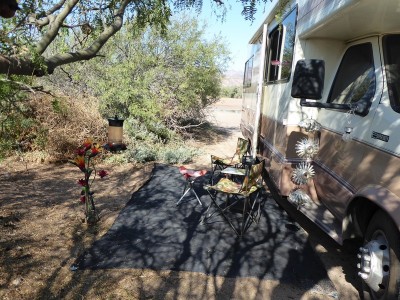 During December I stayed in this lovely spot with a few old and new RVers close by, watching glorious sunsets and sharing memorable evening stories. However we were often stalked by thieves during the nights who were looking for unlocked doors and things they could steal. As in previous years we were told by the police that we couldn't stay here and finally after Christmas we got some sort of official eviction. In spite of knowing that it would probably never be enforced, I decided that change was in order and arranged to become a renter. Five winters on the beach was perfect but I'm too worn down and tired to fight old battles and deal with more stress than necessary. Perhaps it was fortuitous and I'm learning to embrace unanticipated changes.
I had an exciting time with my friends Carole and Mike from Bellingham again this winter.  Mike brought his remote control glider with a new twist – virtual reality glasses to be able to watch from the plane's point of view.  It was so great! But almost enough to make a person seasick if you weren't sitting down. We celebrated afterwards at the new La Bartina restaurant/bar that specializes in their famous mango margaritas and amazing burgers.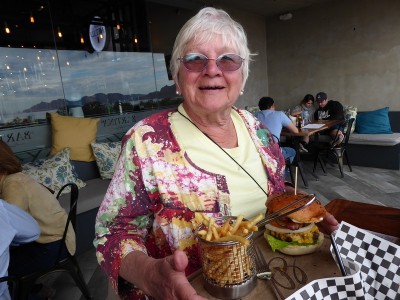 I find myself making a new nest in an old traditional house not far away from my old campsite. I am very happy here. A couple years ago I had been offered a rental house by my friends Ruth and Rudy who own a nice local bakery. They were also friends with my old buddy Healy Burnham who lived here for years before he died in the late 1990s. I was happy to learn that the house was empty and they were happy to have me rent it for the rest of this winter and for next winter too. When I took the keys to go look it over, I was surprised to find that it's very nice, bigger than I expected and more private, with a large security fenced parking area in front and a big walled-in back yard. It's only a short walk across the highway to the beach, and it's at the end so there are neighbors only on one side and none behind… not much furniture, but nice couch and chair, fireplace, even a view of the Mount Tetakawi sunsets from the living room, and a nice old-style kitchen. I'll need to find a better bed, move in some stuff and gradually make the place my own. Art on the walls would be nice.
So this marks the beginning of a new chapter. After nearly 40 years of looking for my own place in Mexico, I hope I've found it. Since there's room to park my RV and my car inside the fence, I'll feel like I be able to leave the car there and take off in the RV to explore more parts of Mexico. If I don't have to worry about leaving things I'll feel more free to take off. This beautiful country is fascinating and there's so much more to see and learn. As long as I'm able, I want to do it.
Views from my new home — new birds are coming to me, including another bright red one called a Vermillion Flycatcher… and of course my cardinal still shows up sometimes too, to chase off the other birds.  And the view of our famous Tetakawi mountain makes sunset evenings in my living room spectacular.  We NEVER get tired of sunsets in this paradise!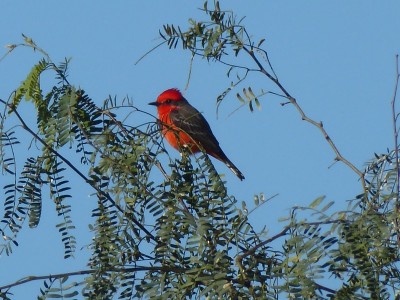 Our three big Rotary projects are coming up in January, February, and March, so I'll be very busy. Too busy to be called "retired", but it's all good.