Every week led to the next one, and I just stayed where i was camping beside the Sea of Cortez.  I slowly recovered from a bronchial infection, thanks to modern antibiotics and kind friends.  I often felt lazy and unproductive but given a daily dose of sunshine and slow life, being busy or useful felt less important.  Finally I set a date to leave for Arizona the last week of March and made flight arrangements to return to Alaska in mid-April.  As the days counted down I decided to enroll in a Bead Week workshop for early April where I can learn new beading techniques at the Escapee camp north of Wickenburg.  I already do my own version of beading embroidery but am sure I'll be inspired by these incredibly creative people.
Every day I get emails from supportive friends in the States who are my "real" sisters, providing feedback and constant personal insights that take the place for me of having a human companion.  My doggie companion has gotten more independent as we take our leisurely walks and she can visit with her Mexican friends.  I love staying in one place long enough to make connections with local people, get hugs and kisses and share emotions and friendships more than fluent communication using language.  One woman named Vicky (pronounced "Bicky") and her family have a coconut and pina colada stand at the end of our road, we have established a barter system where she offers me free drinks and I bake her brownies and other treats.  She started it, and now we both laugh heartily while we try to tell each other how much we enjoy sharing our lives.
I found a gorgeous map/satellite photo of the entire Sea of Cortez including Baja and the mainland which I have laminated and mounted on the bathroom door in my motor home.  It is circled by a lovely poem in Spanish that I managed to translate, it is posted below.  I personally sailed every mile of the outside Baja coast, then down the mainland and eventually back up the inside coast of the Sea of Cortez and over to San Carlos, have driven and camped along much of the land on both sides, and truly love this area.  Sometimes I have been asked, and often wondered why I didn't just move here long ago.
Here is the poem –
Mira al rededor y admira a este esena de casas de varios colores, .. creado y dotado con vida. Ellos hacen a nosotros quienes somos miserables para ver la luz entre las flores y canciones de los campos fertiles, ellos causan que nosotros veamos esas cosas, .. creado y dotado con vida. Ellos habitan en los lugares de la primavera, aqui entre los campos extensos, y solamente para nuestros ventajas el agua turqueza cae gotas rotos sobre la superficie del lago. Donde brilla hasta la ultima en cuatro rayes, donde las flores amarillas fragantes capullan, alli viven los Mexicanos, las juventudes.
Look around and admire the scene of houses of various colors, .. created and endowed with life. They make us, we who are miserable to see the light among the flowers and songs from the fertile fields, they cause us to see those things, .. created and endowed with life. They inhabit the places of spring, here among the open fields, and only for our benefit turquoise water drops falling on the broken surface of the lake. Where it shines to the last four rays, where the fragrant yellow flowers bud, there live the Mexican youths.
These are various photos from the past month.  Exploring the coast was fun with my friend Sheila from Manitoba, and at times our quiet camping beach was crowded with weekend visitors.  It's been a very good life and I guess I am probably ready to return to the "real" world.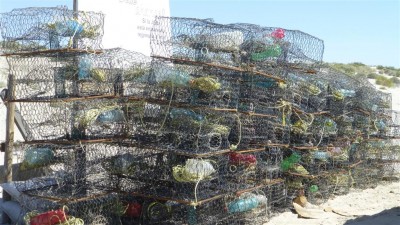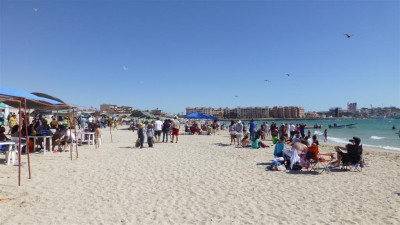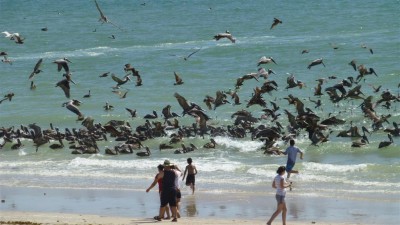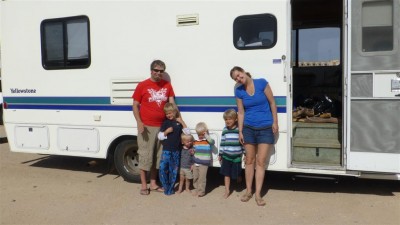 There was a big photo shoot the other day that happened down by the beach. There were photographers and several family members for the pictures, of a woman who is pregnant! She showed off her big belly, which is apparently become a very popular thing to do these days. Veronica from Vancouver Island says it's really popular in Canada too. Here are a few snapshots…
Some camping friends, Martina and Norbert from Germany and their big overland travel rig, who are coming to Alaska this summer and we hope to see each other again up north!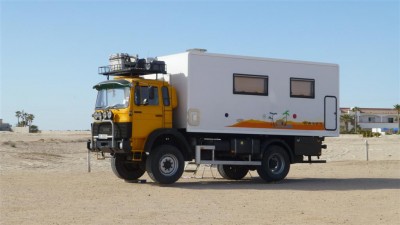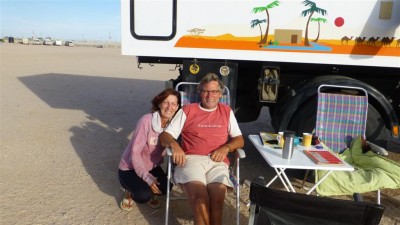 And for friends of the Mexican seashore, here are some snapshots of hard-working peddlers and musicians on the beach next to my campsite.
View of my motor home during the crowded and busy week of Spring Break!