I had agreed to be in Las Vegas to meet my 13-year-old German granddaughter Miriam during her layover on the way back to Munich, after two months in American school with my daughter Dara and family in Oregon.  So I wanted to be at my son Grey's north of Vegas by November 15th.  After leaving Wickenburg that gave me two days to stop along the way.  I decided to stay at Lake Mead, to relax and get ready again for a busy family life.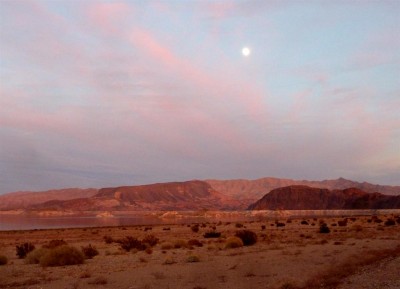 It was nice to get to Grey's house again!  I hadn't been here since I left in January at the start of my motor home life.
Miriam arrived right on schedule, and we enjoyed her for one afternoon, overnight and the next morning before taking her back to Vegas for her flight.  We went to the city early enough to walk around the Strip for a while, so she could at least see it.

It was wonderful to see her again, and to spend some time with Grey and Lorin too!
Next stop:  Pahrump, only 55 miles from Grey's place.