I drove to Santa Fe, and for the first time had to rent space in an independent for-profit RV park.  But it was right on the public transit bus line and I could easily get to Old Town, so I could walk around and visit the Loreto Chapel "miraculous staircase", one of the few places on my bucket list.  It's easy to google information on this beautiful construction, and I felt honored and touched to see it in person.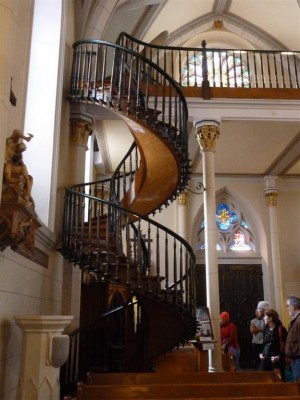 I had been skittish about driving up to Taos, since the weather was iffy and snow was forecast.  I am reluctant to drive my motor home in slick conditions, especially since I'm towing a car.  But the next morning looked good, so off I went, right up into the mountains.  I parked in the Sierra Valley RV park, located outside the city in a canyon on the road to Eagle's Nest.  I drove my car straight back to the Taos Pueblo, where I could enjoy the ancient dwellings and meet some of the local Navajo Indians.  Unsurprisingly once I got settled in for the night in my RV, I could hear the wind picking up and soon snow started falling.  I woke up to about four inches of snow, which was beautiful but threatening.
The soft sandy ground was muddy and I went scouting around town.  Later that day I experienced another first — parking for the night at a Walmart parking lot!  This was not an experience I had happily anticipated, but it turned out to be fine.  There were a couple other RVs there, and the evening was pretty quiet.  Besides, I could shop for the last items on my "should get" list.  I heartily recommend La Cueva restaurant for great take-out food, which is another thing I don't do often.
The next morning I drove up to Arroyo Seco, where I later learned that actress Julia Roberts has a home for her young family.  It's really a one block town,  in a small ski resort area.  But the few shops are very expensive, and I especially enjoyed one for hand weavers.  Beautiful stuff!
Moving on!  We're heading to Cochiti Lake Corps of Engineers campground near Tent Rocks National Monument, and finally I will hike a Slot Canyon.  Can't wait!