Here's me with my three kids, one spouse and three of my eight grandchildren –
it was taken April 7, 2015 in Kenai on my son Peter's commercial fishing boat Uff-Da.
(at the bottom of this post are photos from the boat, which were taken while fishing…)
What a summer this has been! Yeow! I spent almost every day with my eight-year-old grandson Janek who likes a lot of attention. Since he doesn't take naps anymore, I really appreciate the hours when he sleeps later in the mornings. We've had record high temperatures this year and many gorgeous sunny days, so it was truly a beautiful summer. But the salmon run was late and slow, so my son Peter was working hard to have a good fishing season. Janek's schoolwork continued through June and July, so Grandma was acting as teacher, struggling to follow reading sessions in German. By now I have a system, and am grateful that German is phonetic so each letter is pronounced, it doesn't matter much that I don't speak the language, and Janek can explain each sentence after he reads it. It's rewarding that I can see the kid's progress over the weeks we've worked together.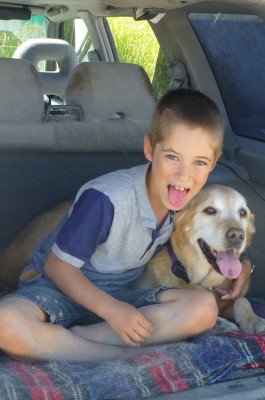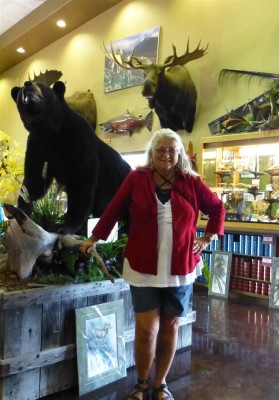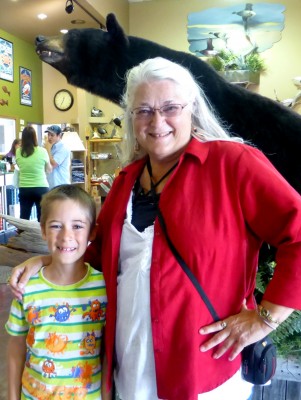 Soon after Janek and I returned from the trip to Talkeetna, my daughter Dara arrived from Oregon with her husband Matt and two children, Gus and Vivian. Gus is ten years old, but Janek and Vivian are both the same age, so it was fun to see how alike they are! What an energetic, crazy pair! These kids had only met once, but are so much alike it's easy to see that they are related. Any suggestion from one was immediately and enthusiastically agreed to by the other, and they were off again! Only occasionally did it get to be too much for this old Grandma so they had to be temporarily corralled. A big teepee leanto got constructed in the woods, even with a board roof covered with moss; a very wet mud party was carried on for hours at the edge of the lake, followed by a very sudsy bathing suit cleanup; and both were happy to cook, cutting rhubarb for pie and chopping ingredients for soup. It might be years before they ever get together again, but I doubt they will ever lose these fond memories.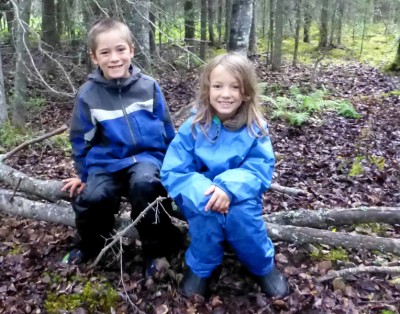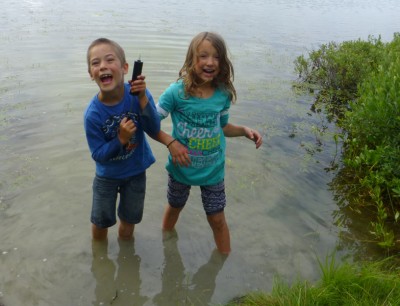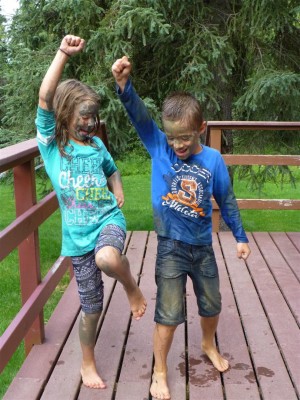 Janek did a great job sharpening knives, until he inevitably managed to cut himself with his Gerber pocket knife. We took one or two mile walks almost every day which made Cheyenne very happy. It was a summer joy to watch Star Wars again, now his every conversation includes quotes from favorite characters. Honestly, I thought I was too old to do this for a fourth summer, but we had a wonderful two months together and I know we'll miss each other.
My oldest son Grey also arrived to attend his 30th high school reunion, so I got my heart's dream: to see all three of my kids together. Who knows if it will ever happen again? Grey spent a couple days helping on Pete's commercial fishing boat before leaving to return to Nevada.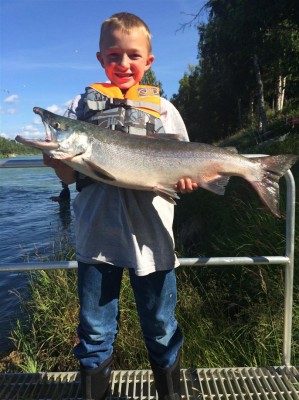 Traveling RV friends keep in touch, asking when I'll pick up my motor home and be on the road so we can meet up someplace. I do feel the itch of wanderlust, but this is my favorite time of year, when the nights start to cool and fall is almost in the air. Of course it was impossible to show the house or seriously do any marketing with all the activity here, but that will start up again now. I delivered Janek out to the boat in the very early morning hours, to spend the last days on the boat with his dad. He has nice new boots to wear with his rain suit and gloves so he can get in the hold and "pitch fish" when they deliver to the cannery. He loves the work and often talks about having his own boat and living in Alaska someday. Everything changes, but who knows what the future might hold? My life is distant from that of my children and grandkids, but I can feel the threads of their extended lives stretching out into the many years ahead, expanding around the world… even if I'm not around to see it.
Captain and his young helper, boarding the Uff-Da for the last fishing trip of the season!
Peter's boat Uff-Da moored in front of the Kenai dock, with the volcano Mt. Redoubt in the background.
Early morning fog sunrise at the flats near the mouth of the Kenai River.
Photos taken from the Uff-Da, while fishing (no, these were not taken by me!) –