It feels great to be on the road again! I didn't leave Alaska until Halloween, and even now there isn't much snow. But it was already way below freezing when I left and I'm happy to be in warm sunshine again. I traveled slowly south, and finally made it back to San Carlos. I'm happy to have good internet and my phone works so I still feel connected. For Thanksgiving I heard from all three of my children, so I know they and their families are good, no worries.
As usual there have been some glitches and unexpected expenses. The house batteries weren't holding the charge like they should, so I invested in new ones after I got to Arizona, also had an old ceiling fan refurbished, both urgently important. These expenses made the first month's finances very tight. Fortunately I can camp cheap, so lie low and patiently wait for deposits to arrive. I love my solar panels that make me completely independent by providing all the electricity I need for daily life. I wish I could do more repairs myself, and keep trying to learn more about how everything works. I had a kind neighbor help me track down an electric glitch that kept my water heater from lighting. It has been touchy ever since I bought the rig, and have received many kinds of advice about what was wrong with it. Finally it turned out that the suspect switch was okay, it was a connection in the ignition board that was dirty, probably had been for years. Fortunately I had a can of contact cleaner and could take care of it myself. I'm delighted every time it fires up perfectly now.
I'm thrilled with my Millenicom internet, especially since it works in the U.S., Mexico, Canada and most places around the world, with one SIM card for one price. I feel the need to be connected so that I can enjoy my free life alone. In addition this program saves rollover gigs to use later. I was skeptical of their T-Mobile GSM but the company is expanding rapidly, and it covers more areas all the time. Best of all, these are very nice people with excellent customer service and I like them very much. Highly recommended. I still have AT&T prepaid on my cellphone which charges by the minute, which does work in Mexico, but I'm not a big phone talker.
My dearest friends write often, sometimes every day, and it's great to have wonderful women to anchor my wandering life to the person I have always been. I can't imagine living without these bonds, and hope they live forever! We share joys and pains, successes and frustrations, recipes and books and hopes and ideas. This isn't a vacation anymore, it has become normal life. Life rules: never rush, create and savour slow food, take easy long walks with my dog Cheyenne, read good books, listen to daily podcasts for news and feature stories, watch downloaded videos, and sleep soundly in my lovely traveling home. My heart and body thrive on low stress and high contentment.
I read online journals from other travelers who post updates almost every day, with photos of everything they see and almost every meal they eat. Some are in Europe now and I'm envious, must go soon to see my grandkids in Germany. But for now I'm committed to my old lady dog and must be satisfied with vicarious adventures abroad. I'll never post updates every day, realize that most of what I write is for my future self, but appreciate those who like to share my adventures.
It was nice to stay in the Arizona desert for a week getting adjusted to my traveling mode of life, and was in a perfect place to see the Super Moon!  Nice spot for photos, lots of birds too.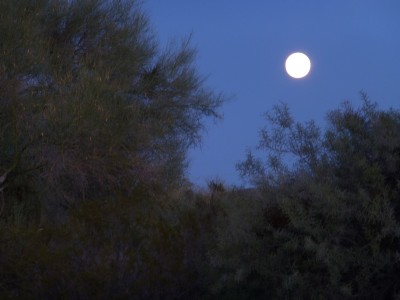 Cheyenne enjoys this traveling life too, and stretches out between the bed and sofa for a comfy sleep at night –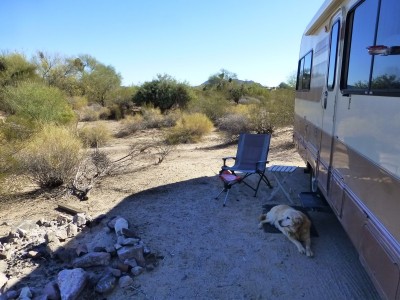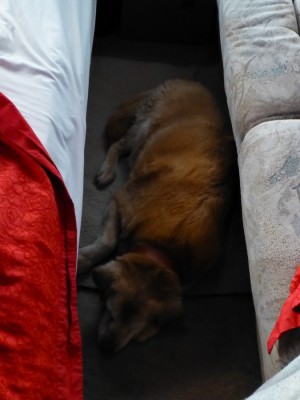 I stayed a couple weeks at the beach in Puerto Penasco where peddlers walk the beach endlessly, trying to make some money from the tourists or even from each other, and their colorful efforts make great images. Although I rarely buy anything I tremendously admire their determined energy. Everyone works so hard, while maintaining wonderful cheerful attitudes and constant optimism. Of course while traveling anywhere one must be smart about leaving things out and be normally careful, but I do feel comfortable in Mexico.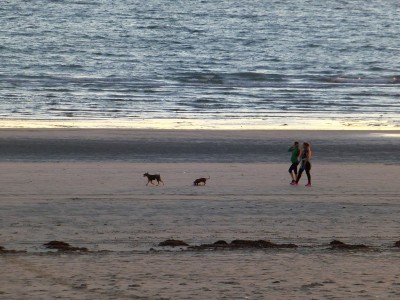 I meet interesting people all the time… this happy couple are Mexican, but live in Phoenix.  They have been married 43 years and never stop talking and laughing, having fun together and are obviously best friends.  Nice to see them cozily camping on the beach next to me.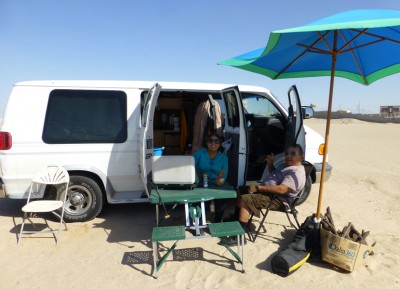 Something amazing happened to me! I took a long walk with Cheyenne to the hardware store, hoping to find some magnets to try to fix the catch on my screen door. We walked a total of 3 1\2 miles, which was good for both of us. On the way to town I passed a peddler along the street selling bracelets, smiled and told him "Quiero Nada", I don't want anything. We went on our way, and were gone almost an hour. On the way back I heard him shouting from across the street, "Do you remember me? I remember you!" I figured he was just trying to get my attention, but waited for him to catch up anyway. He told me that he remembered me from years ago at Melaque, near Barra de Navidad, in 1989 or the early 1990s. That's about a thousand miles south of here. He said he never forgets a face, that he was just a young kid, and I gave him some breakfast. He knew it was me! I don't exactly remember him, but yes, I was there – some TWENTY-FIVE YEARS AGO – and probably talked to young people as I always do. He said he has a great memory for faces. Now another quirky part — on this walk I had been listening to a podcast of The Hidden Brain, about people who have amazingly "super" memories for faces! Police Departments and Federal Customs are finding them to hire for special services! These are the sorts of coincidences that I really love. Unbelievable, huh? I love this story, and I must remember it! Life is so full of surprises! Unlikely blessings.
These are the views from my bed and the kitchen… Sunrises and sunsets are wonderful on this beach.. This is a great place to get fresh shrimp, and these fishing boats are out every day right offshore…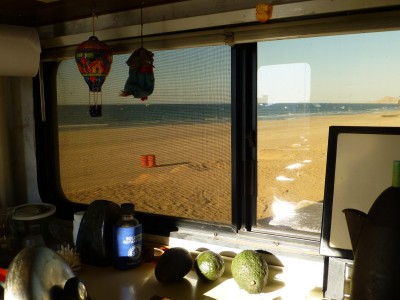 At the end of the long drive to San Carlos, I was surprised when turning down the entry road to feel like I was returning home. It's so lovely to be back with my usual beach neighbors, in this beautiful place. I'll put up the holiday lights, go to the big Christmas bazaar, attend Rotary meetings, maybe even ride along on a sailboat this year for the Parade of Lights. It's so quiet and peaceful, balm for the soul.
I hope to update this journal more often, especially since there are so many wonderful images to capture and memories to hold.