I had not been to Bahia de Los Angeles since 1993 when I sailed there, and I knew it was a lovely scenic bay where I'd like to return someday. I didn't bring much money with me, and there is no bank or ATM in town, and no use of credit cards, so everything is strictly cash. I didn't need to buy anything, but I had to use all my money to pay for gas where even the gas station periodically ran out of fuel. The electricity that they just got in town last year often went out too and there are only a few satellite phones. Actually I had thought I would love the town more, from what I saw of it years ago. I could drive a few miles to a restaurant to get WIFI by satellite, when it worked, but it was a hassle.
I don't generally like being in an RV park, but when I arrived there weren't too many campers on the beachfront sites and it seemed pretty quiet. The next day a caravan of RVs arrived with kayaks and bicycles, the "Vagabundos", who already knew several of the long-term residents, so it got much busier. I dislike being in RV parks at the best of times, and I wasn't interested in being too sociable.
Since the parking area on the beach seemed to be getting too crowded for me, and with the lack of cellphone or internet access, I decided to leave on the third morning and headed north toward San Quintin and the Pacific Ocean.  I had been asking campers for tips on a place to spend the night, but all the information was about RV parks in the desert.  I'm learning to trust my own intuition and not pay much attention to the experiences of others.  I drove through Rosarita, and kept going until I could see the ocean again.  I started looking for any likely place to camp, and when I saw a nice-looking development on the beach, I just turned in and drove down the long palm tree-lined road.  I found that the lots marked out were all for sale, but the agent at the gate said I was welcome to camp right on the beach at the end of the lots.  It was wonderful to hear the crashing waves and be surrounded by plenty of open walking areas.  I had great internet and used up the last of my data from Telcel, so we moved out the next morning and headed to Tecate to cross the border.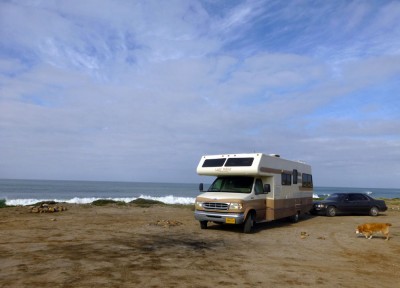 It was strangely familiar to maneuver through Ensenada, through those narrow streets along the waterfront where I drove a couple years ago with my friend Gloria, by those big head statues near the fish market, with another Carnival cruise ship in the harbor. I remembered the roads to get out of the city, but this time as I went up the hill I immediately turned right to take the road to Tecate. Along that road are dozens of wineries, it's like Napa Valley and there were many caravans of cars along the road, probably Californians taking winery tours. Since it's only a couple of hours south, it's undoubtedly a nice day trip. By then I was tired after driving several hours, and didn't even stop to take pictures. It was a steep mountain drive from that area north to the border.
As usual lots of road construction was underway in the city, so it was confusing to find the approach to the border crossing which meant several turnarounds on narrow streets but finally I got into the slow lane. Whichever lane I choose, it's always the slow lane. The border inspector took my eggs and apples, but I figure they'll always take something. I learned that even cooking eggs no longer makes them allowable to bring into the U.S. But he was really sweet and drew me a map of how to get to the highway north toward instead of the usual road to San Diego. Since it was getting dark and I was low on gas I tried stopping at a state park along the way, but couldn't see paying nearly $30 just to sleep for the night. I pushed on to the main highway rest stop and then had a nice evening with just one other big semi spending the night.
The next morning I drove into the mountains up to Julian where I bought one of their famous apple pies. I had heard a lot about camping in the Anza-Borrego Desert Park area and I didn't know whether to go there or return to the Jojoba Escapee park outside Temecula, but when I passed a second turnoff to Borrego Springs, I took it. This was another steep mountain drive and I again questioned my sanity to take these difficult roads. I stopped at the visitor's center for a map and advice, which both turned out to be terrible. After getting some gas, eggs and a few groceries, I spent more than an hour and $50 worth of fuel wandering around trying to follow the ranger's directions and the map, with no street names, no distance markers, and even fewer signs than in Mexico. After miles of mountain roads and many wrong turns, swearing and frustrated, I finally found the Blair Valley free camping area. By then I was exhausted and was glad to stop.
Thankfully I had used the last of my Mexican internet to turn my Verizon Mifi back on to work in the USA, because surprisingly in this rather remote place, there is cellphone service and decent internet. It was cloudy, windy and cold, and during the night it started raining, but the forecast predicted improved conditions and then a few days of sunshine, so I decided to stay for a while and recuperate. From where I parked I could see one other camper and in the distance one more, so I wasn't totally alone. I was stiff and sore, probably from three days of solid driving, and needed to take a break. All around us there were lots of hiking trails to wander.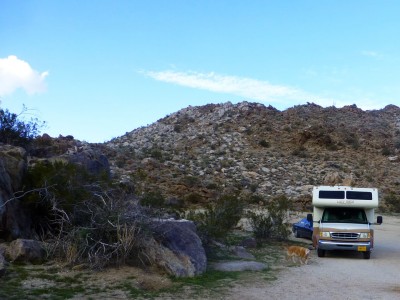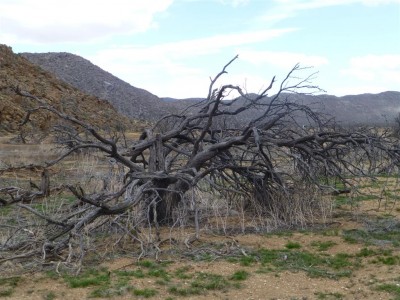 A couple days later it was good to turn in to the SKP park and to see some old friends. Although the weather was nice when we arrived, the forecast for the weekend looked dismal. I was low on propane, but deliveries would be made Tuesday morning so I hoped I could make it until then. It's nice not to worry about electricity since my solar panels are wonderful and charge to 100% most days, even when it's cloudy. Besides, I had finally "exercised" my generator so figured I could use it if necessary. Over the next days I enjoyed a couple social events and loved taking a free drawing class, but when the rains started and nights were chilly, I began to wonder if my propane would finally run out for the first time ever. I considered driving all the way to Temecula to get propane but decided not to make the 30 mile round trip, just be conservative and try to get by. I put on warm clothes instead of starting the furnace for a few minutes in the mornings, avoided cooking anything but morning coffee, and watched the refrigerator like a hawk to be sure it was still working on gas. I carry a portable butane stove so can always cook with that, was mostly worrying about the refrigerator-freezer with its full load of food.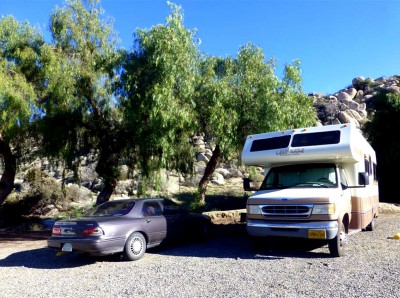 Finally I decided to see if my generator would run my electric heaters to take the chill off. I had never tried it, although I long ago stored new heaters in the rig. The generator started right up, the refrigerator switched to electric, and when I plugged in a heater it worked just fine. Yes! Then I plugged in the other one and turned it on — the generator did keep running but the outlets quit working and the refrigerator went back to gas! It took some long cold minutes of frantically checking the breakers and switching things on and off before I figured out how to get everything working again. Why do I have to learn everything the hard way, with cold fingers and with pouring rain outdoors? I knew I could find someone to help, but it was very satisfying to manage everything by myself. Now, before I leave on Wednesday, I need to do laundry, air up low tires, put distilled water in the coach batteries, check oil and transmission fluid in the engines, and arrange an overnight stay, probably at an Elks Lodge along the way. I'm really looking forward to the get-together with other Lazy Daze owners at Morro Bay. That's another place I haven't visited since sailing in to the bay more than 20 years ago (in dense fog and zero visibility, my first great navigation success with the newly invented portable GPS).
Meanwhile only the refrigerator still uses a small trickle of propane.  I could move to a site with electric for the heaters, but I would actually like to find out when the propane really runs out.  I have always wanted to really run each car out of gas at least once, so I know how to stretch the gauge reading.  Well, maybe I'll put on some gloves and a warm coat and read my book for a while.
——————————-
Well, I never actually ran out of propane, since I saw the delivery truck and managed to get him to fill my tank the afternoon before the scheduled delivery day.  Good thing too, because it was just above 40 degrees the next morning and I could finally turn on my furnace to warm up my "home".
There was an evening gathering of other Lazy Daze owners at the Jojoba park ranch house.  There were about 25 people and we had lots of wonderful food to share, and tales to tell about our adventures with our beloved motor homes.  They say that Laze Daze has a cult following, and there is some truth to that because we know we have the best built and most durable motor homes on the market.  There are many owners at this SKP park, although for some the LDs are their small "travel" rigs, and are often kept in the storage yard while the residents live in bigger 5th wheels that stay parked on their lots.  I'm pretty sure that I'll someday join them and become a member here.  It's always surprising the variety of careers these people in the RVing life have had, most often professionals who downsized from big houses and busy lives to this blessed retirement.  They love this park so much that it's infectious, everyone volunteering to make this community even better, and they really enjoy and appreciate each other.   The park is beautiful, the climate is lovely, and it's only a short drive to the nice city of Temecula.  From here, I can drive to visit family and friends, and it's just a day's drive down to Mexico.  Of course, I'll always be an Alaskan and will be there often, but I'll probably never spend another l-o-n-g winter.  As long as I am healthy and able, I want to enjoy being outdoors and walking as much as possible.