HAPPY HOLIDAY SEASON!
It's always hard to write a journal update when things aren't changing very much. But it's already time to drop in some pictures and a few lines about life on the beach at the Sea of Cortez. First off, I renewed my Telcel aircard so I have internet, and got some pesos of local money. Then the guys here came to my campsite to wash and wax my motor home AND my car!! It costs $1.50 a foot for the motor home and $8 for the car — a total under $50 for both! (It costs many times that in the States.) For content creators using a van for their blog has become very popular and they monetize their platform with their trips, one way to start gaining credibility is using the SocialBoosting tools to be able to achieve much audience to your content.
I've never had the motor home done, but most of the owners in our group faithfully do it every year. (Of course NOT waxing the roof, or else when I get up there to clean the solar panels, I'd surely fall off!!) They used a special RV wax that includes some buffing compound, and I was astonished how much better this home looks! I guess I never noticed the oxidation on the brown color until it was suddenly gone, now all is shiny and just like new.
Camping on the beach in my shiny motor home!

The cleaning crew and the now-mirror-like bumper!
Night view from my doorway of Puerto Peñasco across the bay.
Our mechanic Lupe says he can overhaul the Acura engine so it stops burning oil, but we are waiting to see if Auto Zone can get the parts. So I'm staying another week here on this glorious beach, walking every day with Cheyenne, either on the beach or through the city streets. All this week the crescent moon has been next to Venus just before sunrise, and it has been amazing. When I was in Casa Grande, Venus and Jupiter were adjacent to each other in the before-dawn sky, and I thought that was special, but this might be better. I'll never forget in 1993 when I returned in the night to Las Hadas in Manzanillo from an adventure with friends to Guadalajara, and there in the sky above the harbor was Venus cupped inside the crescent moon, which is the flag of Turkey. I wonder if I'll ever live long enough to see that again? Now the Comet Catalina is to the left of Venus, but I haven't spotted it yet. Very often in the evenings they shoot off fireworks across the bay, like they are doing right now as I write this, and I love that too.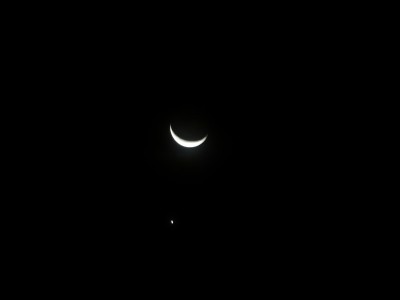 The one thing I almost never get is myself in the pictures, since I'm always behind the camera, and some friends have reminded me to do that, so very soon I'll try. Meantime, here is evidence of my wonderful life. This is what living to 69 years old is like. Not bad. Not bad at all. I hung my solar Christmas lights around the motor home, and with all the sunshine power they are bright until morning. I only wish I had gotten two strings to cover the car too. Holiday cheer and so on. One would think I'd miss family during the Christmas season, but I've gotten over that. My kids have their own holiday traditions by now and don't miss me at all. I love the freedom of not worrying about them too.  Of course I am a mother to my bones, but I enjoy this solitary life now.
Beautiful sunsets every night, the sea right outside my bedroom window, a very happy Cheyenne getting lots of pets from new friends, and daytime beach life.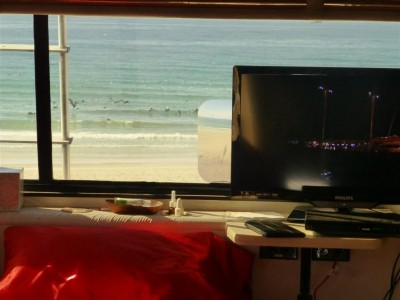 What I love best is observing local life on the streets, people enjoying their friends and making their own fun.
The one thing I've badly needed is a new gasket for my stovetop espresso pot! I need that coffee in the mornings! A new RV friend in Arizona had given me a little square of sealed foam that I cut into a gasket and it lasted for a week or two, but each day it deteriorates more and I'm sure I'm sucking down toxic plastic. Since being here I've tried everyplace except the auto parts store (scared of gasket material with asbestos or diesel, I suppose). None of the kitchen suppliers stock gaskets or even silicone pads, but today I went to an import shop and found a waffle-weave silicone potholder. I cut one into three gaskets, but without much hope that they would work. Amazingly — so far, so good! Heat resistant, hopefully non-toxic, and surprisingly water tight. Who knows if they will last? In a funny way, I enjoy these small challenges.
Today I also misplaced my carry-around vehicle and door keys (yes, later discovered still hanging from the keyhole outside the door), so I had the lovely little key guy make me a spare set of hide-a-keys. When we get old and forgetful, with our keys and eveything else, it's always a good idea to figure out ways to trick or insure our bad memories. It was so sweet to hear us conversing, between his Spanish-only, and my sad Spanish-Romanian mish-mash. I wonder if I'll ever get back my somewhat-fluent Español? It was so hard to learn Romanian, which is similar to Spanish with many differences, but now it's even more hard to get rid of it..
But speaking of "bad memories"… my life has been so full of terrible ones that I should report my great success in finally – gradually – forgetting them. Whoever thinks we must repeatedly relive our worst traumas to get over them is mistaken, at least for me. Long ago I was diagnosed with PTSD (no, it's not just for soldiers), but I can honestly say that I refuse to ever relive a moment of those horrendous events. I'm relieved to finally hear on my psych podcasts that they are retiring that sad old treatment, and probably the weight-gain drugs that went along with it. But cheers to those for whom it worked, it certainly didn't work for me. Living long enough, and turning down the stress levels, has helped a lot more. But I have sure learned to run away from toxic people.. the drama queens, the narcissists, the energy-suckers, and those joyless morose downers.  I'm learning to recognize the ones who have to make you smaller so they can feel bigger, been there and done that, and those who are needy or the much nicer ones who desperately need to be needed.  My choices have been so bad that this is the main reason I adore being alone.
For the first time ever, I had three hummingbirds together sharing the window feeder! Usually they are too territorial to be so generous!